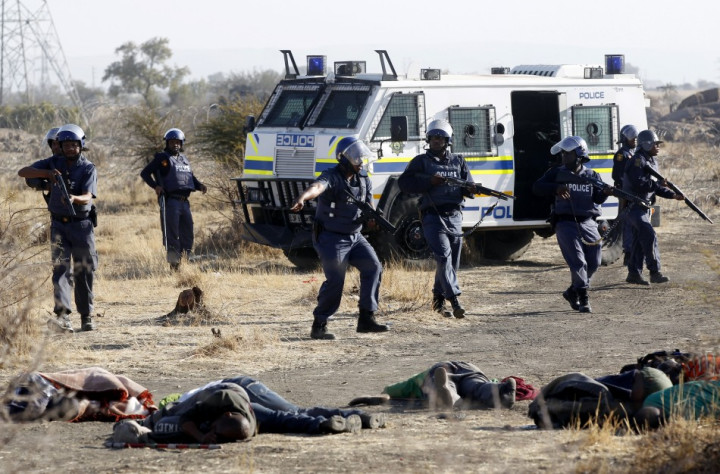 South African prosecutors have provisionally dropped the charges of murder against the 270 miners arrested after clashes at the Lonmin Marikana mine in August.
The miners had been accused of murdering 34 of their colleagues during the clashes - even though it is widely accepted that the victims were shot dead by police.
The decision to drop the charges was announced by acting national director of prosecutions Nomgcobo Jiba, after the National Prosecuting Authority (NPA) was inundated with criticism from political parties and civil rights activists.
Although the murder charges will not be formally dismissed until the end of the inquiry, the miners will be released from jail with a warning once their addresses are verified by police, said Jiba.
All other accusations, ranging from public violence and illegal gathering to illegal possession of firearms, will remain.
"Final charges will only be made once all investigations have been completed. The murder charges against the current 270 suspects will be formally withdrawn provisionally in court," she said.
Apartheid legacy
The National prosecuting Authority (NPA) had initially invoked the use of the 'common purpose' legal doctrine to impose murder charges on the men arrested after the clashes between police and strikers at the British-owned Lonmin mine in Marikana, which saw officers open fire on 3,000 people.
According to the prosecution, by participating in the protests the miners had provoked the police to open fire and therefore they could be held responsible for the killings which followed.
The obscure common purpose mechanism was used during the apartheid regime by the white minority to crack down on black opposition, and has received severe criticism from the African National Congress (ANC), which is currently in government.
Miners' lawyers had implored South Africa President and ANC leader Jacob Zuma to reverse the decision but he refused to intervene in the case.
However the NPA's legal action was publicly criticised by Justice Minister Jeff Radebe.
"[The charges have] induced a sense of shock, panic and confusion," he said.