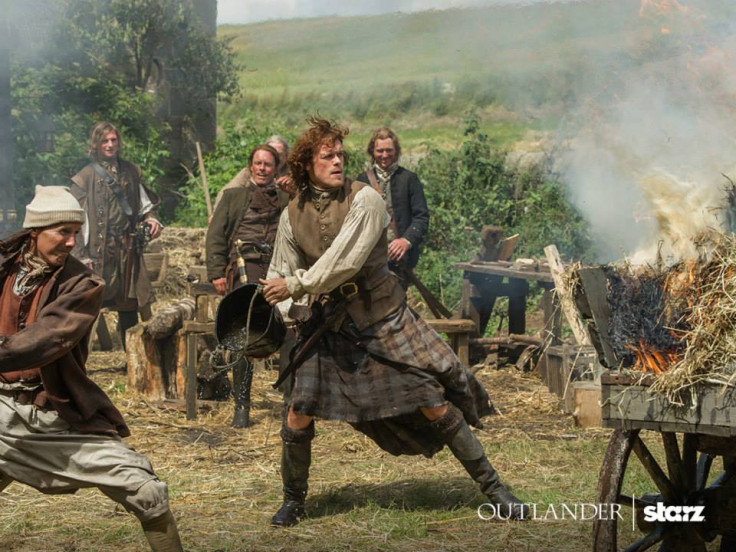 Outlander season 1, episode 13 titled The Watch, airs this Saturday (2 May) and it looks like the episode might not end well for Claire and Jamie.
The official synopsis for The Watch reads: "Jamie finds himself between a rock and a hard place when a redcoat deserter from his past resurfaces. Claire tends to a labouring Jenny while Jamie and Ian join The Watch on an ambush, resulting in devastating consequences."
E! News predicts the episode will not end well for the couple, hinting at Black Jack's possible return.
In last week's episode, Claire awoke to find a group of men aiming their weapons at Jamie. These men are part of the Watch, mercenaries who do anything for money, including turning in wanted suspects or fugitives to the Redcoats.
A promo clip of the new episode shows Ian and Jamie apparently in battle, Ian having injured or killed someone and holding a bloody sword. This coincides with the synopsis, explaining the two joined the Watch, though it appears their mission turned bad at some point. (via Latin Post)
Meanwhile, a TV Line report dished out some spoilers for the Outlander season 1 finale. As per the report, the finale episode will not have "any mention of Jack Randall's brother, a minor point in Diana Gabaldon's first book but a major one in the second (and therefore likely important in season 2 of Outlander).
"I don't think that made it into the edit," series creator Ron Moore told TV Line. Even actor Tobias Menzies — whose character would have uttered the mysterious line (familiar to fans of the book) during a harrowing scene in the finale — said he couldn't recall the mention, either.
The official synopsis for the finale episode (which airs 30 May) titled To Ransom A Man's Soul, reveals that once again, as the series draws to a close, Jamie is in the middle of yet another drama. It reads:
"Jamie is freed following a daring rescue, but his mind lingers on the torture he endured."
Outlander season 1 episode 13 The Watch airs this Saturday at 9pm EST on Starz.