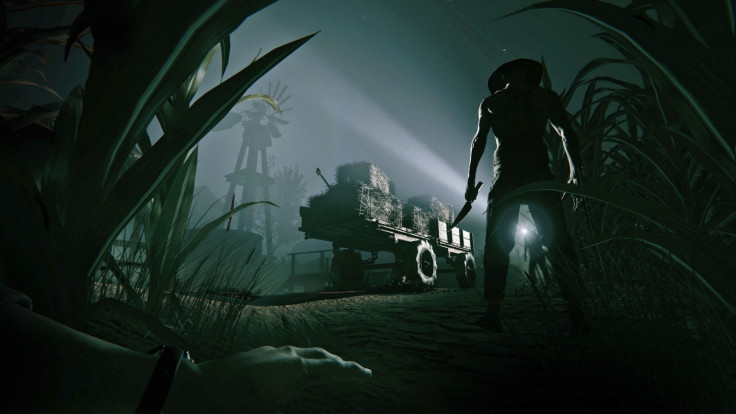 Update 24 March: The Australian Classification Board has reversed its decision to refuse classification for Outlast 2. There has been no explanation as to why the board decided to overturn its original decision.
The game's publisher said in a statement to Press-Start that "Outlast 2 has been rated R18+ by the Classification Branch in Australia and will be released 26th April 2017. There will be only one version of Outlast 2 available worldwide." Original story below.
Upcoming horror sequel Outlast 2 has been banned in Australia after being refused classification by the Australian government's ratings board. Published by Red Barrels, the game is set for release on 25 April.
The Australian Classification Board published its refusal on 15 March, but did not specify its exact reasoning. Kotaku Australia however, did some digging and found out why.
According to its report, Outlast 2 was banned for a depiction of implied sexual violence during a scene involving the male protagonist seemingly being assaulted while surrounded by other instances of violence.
The Australian ratings board only published the criteria for a refusal, stating it has the right to refuse when games "depict, express or otherwise deal with matters of sex, drug misuse or addiction, crime, cruelty, violence or revolting or abhorrent phenomena in such a way that they offend against the standards of morality, decency and propriety generally accepted by reasonable adults to the extent that they should not be classified."
Kotaku requested a more detailed breakdown of the offending scene, which was sent by the ratings board and can be read in full below. It does contain spoilers for the anticipated game, so be warned.
The board also implied that were the game to be submitted with the scenes in question cut, it would pass with the R18+ rating the publisher would have been expecting or hoping for. It's not clear whether Red Barrels plans on doing this.
Outlast 2 will be released for PS4, Xbox One and PC in the UK, Europe and North America at least on 25 April.
For all the latest video game news follow us on Twitter @IBTGamesUK.