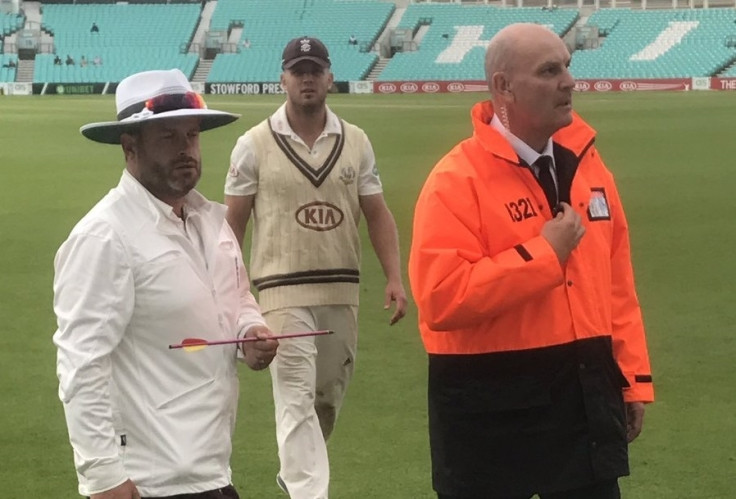 A Surrey vs Middlesex County Championship cricket match was suspended in extraordinary circumstances on Thursday afternoon (31 August) after a metal-tipped arrow landed on the field near players and umpires.
The match at The Oval in south London was nearing its end when the projectile, which looked to be around 18 inches long, landed on the square close to Surrey fielder Ollie Pope.
The players were then told by umpires to immediately leave the field, with many running to the changing rooms.
Meanwhile, spectators in the stands were told to seek cover or to head indoors by ground security.
Armed police were called and the ground was eventually evacuated, with the match being marked as a draw.
There are no reported injuries.
Surrey player Stuart Meaker described the projectile as a "metal tipped arrow" on Twitter.
A Met Police spokesperson said: "Police were made aware at 4.35pm on Thursday, 31 August of reports that an arrow or crossbow bolt had been loosed into the Oval Cricket ground.
"Officers are on scene. The ground is in the process of a controlled evacuation.
"There are no reported injuries. At this early stage it is believed that the object came from outside of the ground.
"There have been no arrests. We retain an open mind as to motive. Enquiries continue."
A Surrey County Cricket Club spokesman added: "We were about to bowl the next ball and the arrow appeared two pitches to the side of the pitch we're playing on at the moment.
"The umpires took it out of the ground and got the players off as quickly as possible. Everybody in the ground has now been asked to take cover, there is nobody out in the stands or out in the open in any form.
"All the seating hangs over the concourse, so they're all under the seating at the moment in the concourse area, which is fully covered."
Anyone who has information concerning this incident should call officers from Lambeth by dialling 101 or call Crimestoppers anonymously on 0800 555 111.