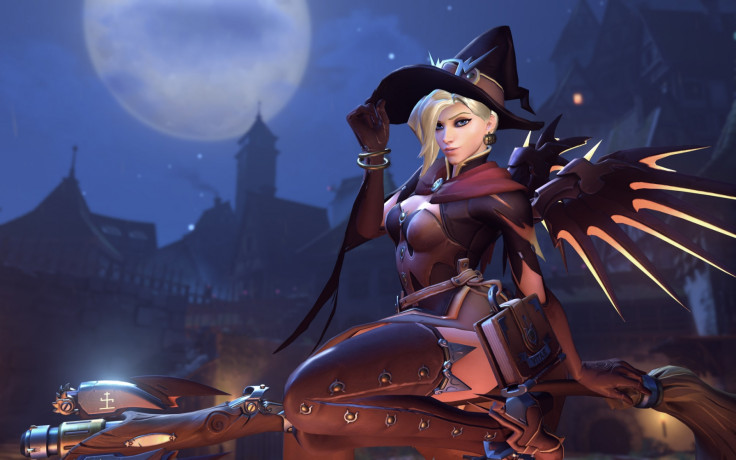 Following weeks of leaks, Blizzard has unveiled its first Halloween-themed event for its popular FPS Overwatch featuring new creepy costumes, sprays, a limited-time-only game mode and more. Dubbed Overwatch Halloween Terror, the event adds over 100 new cosmetic items that players can unlock from in-game loot boxes that can be earned while playing or purchased with real money or in-game currency.
Running through 1 November, the event covers a wide variety of Halloween-themed skins, including a Headless Horseman costume for Reaper and a witch outfit for healer Mercy, as well as new emotes, victory poses, profile icons and highlight intros.
"As with our previous events, any Loot Box you earn or purchase from now until the event concludes will contain at least one item from our Halloween 2016 collection — including profile icons, sprays, victory poses, emotes, highlight intros, skins, and more," Blizzard wrote in a blog post. "Once you've unlocked a Halloween item, it will be yours forever.
The event features the team-based shooter's first ever co-op player vs environment (PvE) brawl as well called Junkenstein's Revenge.
"Team up with three other players and face off against a host of eerie enemies, including Dr. Junkenstein himself, Junkenstein's Monster, the Reaper, a mysterious witch, and host of shambling zomnics," Blizzard wrote. Gamers can choose between Ana, Soldier: 76, Hanzo and McCree in the new brawl to battle it out against creepier versions of other existing Overwatch characters such as Dr Junkenstein (Junkrat), the Reaper, Junkentein's monster (Roadgof) a mysterious witch (Mercy) and a variety of other Zomnics.
Blizzard has also released the new Junkenstein digital comic revealing that Dr Jamison Junkenstein is "an inventor and scientist who was once employed by the Lord of Adlersbrunn".
The Halloween update contains multiple other features and tweaks including the addition of leaderboards, fix for poor connections in competitive mode, hero balancing tweaks and some aesthetic effect, according to Blizzard's patch notes.
The company announced that the beloved hero-based shooter has crossed the 20 million player milestone just under five months since its release to popular and critical acclaim in July.
This figure means there are now more than 20 million registered Overwatch accounts, it does not mean the game has sold 20 million copies. Still, it is a significant feat for the game given the fact that the developer announced the game crossed 15 million global players just two months ago.
Overwatch's Halloween Terror event is currently live for PS4, Xbox One and PC and will run from 11 October through 1 November.