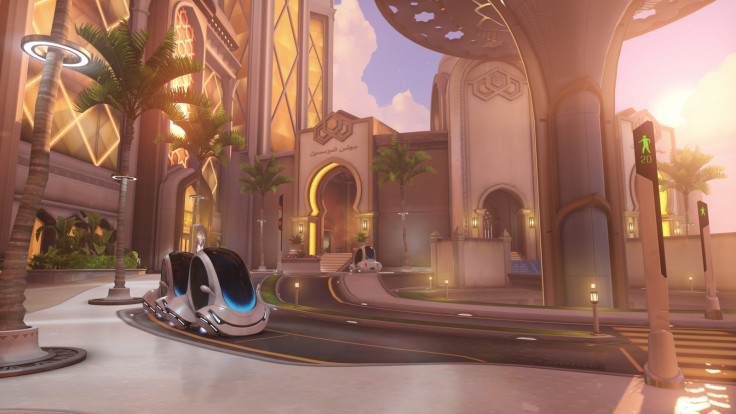 Blizzard has released a new map called Oasis for its popular hero-based shooter Overwatch. Set in a futuristic Arabian desert city, Oasis was released for PS4, Xbox One and PC as part of a new free update on 3 January.
"Oasis is one of the world's most advanced cities, a shining jewel rising from the Arabian Desert," Blizzard's description for the new Control map reads. "A monument to human integrity and invention, researchers and academics from around the region came together to found a city to scientific progress without restraints.
"The city and its inhabitants are governed by the Ministries, a collection of brilliant minds who possess many secrets, which have attracted the interest of powerful organisations from around the world."
Oasis was initially announced at BlizzCon 2016 in November alongside Sombra, Overwatch's latest hero.
The map features shimmering, futuristic buildings, beautiful architecture with Arabesque interiors, and palm tree-lined avenues.
It also features Overwatch's first jump pads scattered across the map, which developers noted can do more than just help players get around. Director Jeff Kaplan suggested that the new feature can be used by players for some interesting possibilities when combined with the characters' abilities.
Players will also have to watch out for deadly, moving traffic that can kill those who aren't careful.
In December, Kaplan teased that 2017 could see the release of some new heroes, maps and more seasonally themed events for Overwatch.
"We're working on multiple new heroes," Kaplan said. "I always like to give the disclaimer that we tend to work on more content than we release. Because we prototype stuff, and sometimes it fails or we don't like it and we go back to the drawing board."
He also noted that the development team is currently working on some other new maps, some of which are still experimental in nature. One map in development, however, is already looking promising, Kaplan hinted.
Overwatch recently concluded its latest seasonal event called Winter Wonderland that brought holiday-themed loot boxes, over 100 new cosmetic items and a new brawl dubbed "Mei's Snowball Offensive."
That update also included multiple hero balance updates, a new "Stay as Team" feature, a cool "Boop" unlockable voice line for Sombra and a few bug fixes.