OwnFone Launches World's First 3D-Printed Braille Phone For Blind People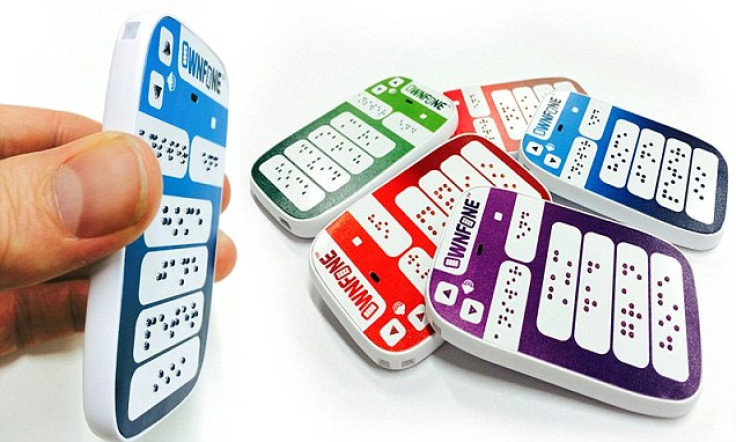 OwnFone, the makers of customised handsets, have launched the world's first 3D-printed customisable Braille phone for blind people.
OwnFone was the first company in the world to introduce customisable phones partly created using 3D printers in 2012.
Readers might have heard of their feature phones for seniors and children, which are simplified and programmed to call a special set of mobile numbers and nothing else, very different from the touchscreen smartphones favoured today by most consumers.
Just like the other feature phone products, you have to log on to the OwnFone website to order the Braille product and then choose which names and numbers you want to have programmed onto the phone's screen.
The handset on its own retails for £60 ($101), while customising the colour of the phone or adding pictures costs an additional £5.
OwnFone also provides its own mobile network, OwnFone Service, offering subscription fees of between £7.50 and £15.
OwnFone's service piggybacks on Vodafone's network, but text messages, roaming and data services are not available.
"3D printing... provides a fast and cost-effective way to create personalised Braille buttons," the phone's inventor told the BBC.
"The phone can be personalised with two or four Braille buttons which are pre-programmed to call friends, family, carers or the emergency services.
"This is the first phone to have a 3D printed keypad and for people that can't read Braille, we can print texture and raised text on the phone. Our 3D phone printing process is patent pending."
Although offering Braille on a phone is a step forward, many visually-impaired people already use smartphones together with special, visually impaired iOS and Android apps.
There are apps that either read aloud articles from websites and apps, or take over many of the phone's functions like phone, contacts, messages, calendar, email and maps to assist and simplify the process for visually-impaired people.
© Copyright IBTimes 2023. All rights reserved.