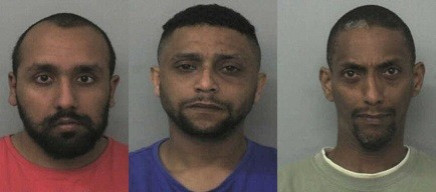 An Oxfordshire child sex trafficking ring has been found guilty of sex abuse charges involving girls aged between 11 and 15 across an eight-year period.
Seven men were found guilty following a five month trial, in which the court heard how they groomed the young girls with drugs and alcohol and submitted them to sexual acts of "extreme depravity".
The men were found guilty of a total of 43 acts relating to six victims, who were beaten, sold into prostitution and subjected to extreme sexual and physical abuse that police say amounted to torture.
Police described the men as "predators who identified the most vulnerable girls in society and corrupted them entirely".
Police and social services have apologised to the girls for a series of failings which meant the men were not brought to justice sooner.
Akhtar Dogar, 32, and Anjum Dogar, 31, and Mohammed Karrar, 38, and Bassam Karrar, 33, were convicted along with Kamar Jamil, 27, Assad Hussain, 32, and Zeeshan Ahmed, 27 will now be sentenced on 26 June. Two others were cleared.
The judge at the Old Bailey warned the men that "long custodial sentences are inevitable".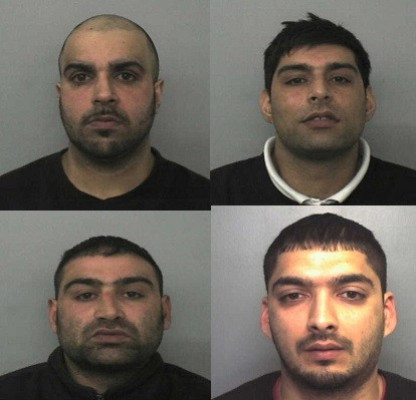 During the trial, the court heard how the men purposely preyed on vulnerable young girls who they saw drinking in the street or living in care homes.
The men then piled the girls with alcohol and drugs, such as cannabis, heroin and crack, before being repeatedly abused or sold for sex to men who travelled from London, Bradford, Leeds and Slough.
Some of the girls relived their ordeals during the trial, including describing how they were repeatedly raped, burnt and beaten and subjected to prolonged abuse sessions involving baseball bats, meat cleavers and knives.
One girl told how she frequently caught chlamydia while she was abused between 2004 and 2007.
One girl even told the court how she was forced to have an illegal abortion after she fell pregnant after being raped by one of the men.
One of the victims said how she told police twice about the police about the abuse, but no charges were brought forward.
A care home owner in Oxford also refused to pay her taxi fare when she returned having originally absconded. The 14-year-old was then driven back into the city, where she was raped by the men.
The carer was later sacked, but the girls had frequently disappeared from the homes down the years and were later discovered with older men by police, who failed to stop the abuse.
One of the victims told the court: "They threatened on a number of occasions to arrest me for wasting police time for turning up at a police station in a state after running away.
"Any self-respecting police officer would have seen something was wrong.
"If you pick up a child who is covered in cigarette burns and bruises, something is fundamentally wrong.
"Adults should be doing their jobs, it's not down to a child."
Devious nature of such depravity
Joanna Simons, Joanna Simons, chief executive of Oxford county council, has apologised to the girls.
She said: "We are incredibly sorry we were not able to stop it any sooner. We were up against a gang of devious criminals.
"I would like to pay tribute to the courage of the girls in giving evidence. They have been so brave. We are so sorry were weren't able to stop it before.
"We did not know the nature of what was happening - the devious nature of such depravity."
Anthony Stansfeld Police and Crime Commissioner for Thames Valley for Thames Valley police said an investigation into how the girls were failed to be protected by authorities will now take place.
He added: "This case opens up a number of disturbing questions as to how we look after children in care, and how we conduct our criminal justice system. Both have clearly failed the children.
"No organisation comes out of this well. However the victims were brave enough to give evidence which was crucial in bringing this to court and securing a conviction.
Baljit Ubhey, Chief Crown Prosecutor for CPS Thames & Chiltern, said: "The abuse these girls were subjected to was truly appalling. No-one, let alone a child, should ever be exploited as these young victims were. To all who bravely came forward to provide evidence for the prosecution, I say a heart-felt thank you. You have enabled your abusers to face trial and be brought to justice.
"The men who have been convicted have still failed to accept any responsibility for their crimes. They are nothing less than vicious sexual predators. The jury saw through their fabrications and they must now face the consequences of their actions. And I thank the jury too for their careful attention and deliberation in this case.
Detective Chief Superintendent Rob Mason said: "Thames Valley Police and Oxfordshire County Council social services deeply regret that this activity wasn't identified sooner and that we were too reliant on victims supporting criminal proceedings, and that they suffered a terrible ordeal."