Firefighters are dealing with a "major" fire which has broken out at council offices in south Oxfordshire.
Oxfordshire's Fire and Rescue service are dealing with the blaze at South Oxfordshire District Council in Crowmarsh Gifford.
Thirteen appliances are at the scene to deal with the fire, including two from Berkshire, a water bowser from WiItshire and a hydraulic platform from Buckinghamshire.
An eyewitness told the BBC they saw a burnt out vehicle in the foyer of the building. Council leader John Cotton said he believes the fires were the result of arson, though "that's not clear at the moment".
Two further major fires also occurred in South Oxfordshire - one at a funeral parlour in Benson Crowmarsh Gifford and a second at a thatched property in Rokemarsh. All fires were reported within 10 minutes of each other, but police have not yet established if they are connected or if any of the fires were started deliberately.
No one has been reported injured in any of the fires.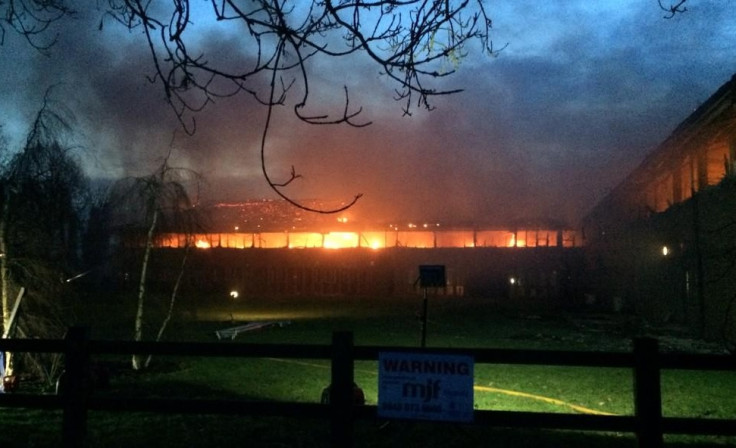 David Etheridge, chief fire officer for Oxfordshire County Council's Fire and Rescue Service, said: "We are in the process of dealing with three major fires in South Oxfordshire, which occurred within a very short timeframe.
"These are on-going incidents and our firefighters are working hard to get the fires under control, with assistance from neighbouring Fire and Rescue Services at the SODC fire.
"At this stage I am unable to state what the causes of the fires were - this matter is currently in the hands of Thames Valley Police, with whom we are working in conjunction."
A South Oxfordshire District Council spokesperson said: "We are putting our business continuity plan into place to make sure the effect on the most important services is kept to a minimum.
"We will set up an emergency phone line for people who have urgent enquiries. There will be a further update shortly."
Sandra Chadwick, co-owner of the Chadwick Funeral Home which also caught fire, told the Oxford Mail: "I can confirm though that no funerals have been cancelled and no bodies of the deceased have been damaged.
"The fire at the home didn't spread thanks to the quick thinking of our staff."
Thames Valley Police are advising people to avoid the areas while the fires are ongoing.