A 47-year-old man has been arrested on suspicion of arson following a fire at council building in South Oxfordshire and two other locations.
Thames Valley Police said the man was arrested in connection with all three blazes which occurred at the South Oxfordshire District Council building in Crowmarsh Gifford, as well as a nearby funeral home and a third property in Roke Marsh.
All three fires were reported to the authorities within 10 minutes of each other.
It is believed that a vehicle collided with the SODC building prior to the fire.
A total of 27 appliances and more than 100 firefighters were called out to tackle the blazes, all of which are now said to be under control.
No one has been reported injured in any of the fires, the structures of the buildings affected are being examined for safety.
The army's bomb disposal team are said to have arrived at scene of the council building fire. It is thought it has been brought in to deal with gas canisters that were reportedly used when the car drove into the building.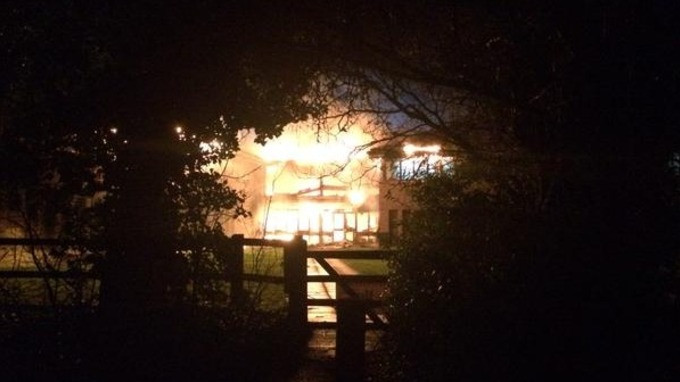 A Thames Valley Police spokesperson said: "Officers were called at 3.24am to Benson Lane, Crowmarsh Gifford where a fire was reported at South Oxfordshire District Council building and another at a commercial property. At 3.41am officers were called to another fire at a property in Quakers Corner, Roke Marsh.
"It is believed that a vehicle collided with the SODC building prior to the fire. There are cordons in place at all three scenes and residents and motorists are asked to avoid the area.
A South Oxfordshire District Council spokesperson said: "We are putting our business continuity plan into place to make sure the effect on the most important services is kept to a minimum.
"We will set up an emergency phone line for people who have urgent enquiries. There will be a further update shortly."
Sandra Chadwick, co-owner of the Chadwick Funeral Home which also caught fire, said: "I can confirm though that no funerals have been cancelled and no bodies of the deceased have been damaged.
"The fire at the home didn't spread thanks to the quick thinking of our staff."
Police added they do not believe the fires are connected with terrorism.