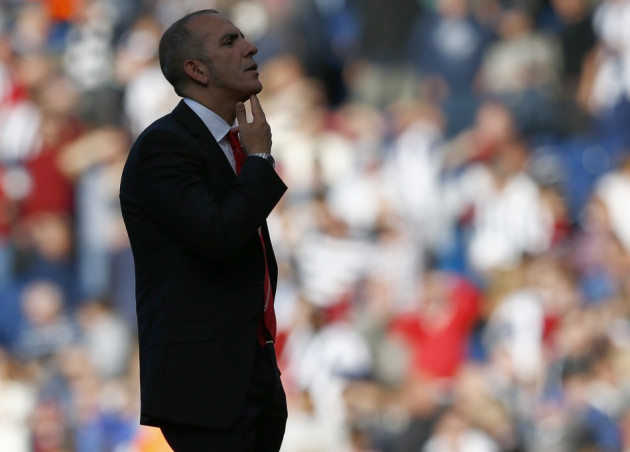 Chin Up Di Canio, You're Not to Blame
Sunderland fans have endured a difficult start to the season. They have seen one of their best players in Stephane Sessegnon sold, a host of unfamiliar faces arrive, and a manager who refuses to take any of the blame for their poor results. Di Canio blasted the players' effort, professionalism and commitment. He knew his days were numbered, admitting: "The team, not intentionally, have not gelled. It is obvious one day if we keep going lose, lose, lose there will be natural consequences, not only for Paolo di Canio. I don't think they will want to keep Paolo di Canio, they will probably want to change."
I wonder if Paolo di Canio will finally look himself in the mirror and have a stern word with Paolo di Canio. He seemed doomed from day one and rather than shoulder any of the blame, in order to protect his players, he took the opposite stance by vocally questioning their talent. He was bold to face supporters after the 3-0 loss to West Brom, but I wonder if we will ever see him in a management position in the Premier League again.
Southampton Shocker Exposes Liverpool's Weaknesses
There had been whispers of Liverpool possibly being title contenders after they opened up the season with three wins and a draw. A home game against Southampton, the last team to beat them in a competitive match some 14 games ago, seemed perfect for Brendan Rodgers' side to gain another vital three points ahead of Luis Suarez's return. But there had been signs the Reds would lack a cutting edge without the influential Philippe Coutinho. The Brazilian playmaker is integral to linking the midfield and the forward line, without him Liverpool lacked creativity.
Southampton were excellent, well-disciplined at the back and exploiting Liverpool's lack of full backs by heaping pressure on Kolo Toure and Mamadou Sakho in the wide areas. Constant pressure was placed on the whole back four when they were in possession and it led to numerous mistakes from a previously solid looking Liverpool defence. Rodgers will demand a reaction and with Suarez returning for the League Cup tie against Manchester United, he could not wish for a bigger game to make an impact.
Manchester Derby Leave Moyes Feeling Blue
As the cameras panned to a disconsolate David Moyes you could not help but feel for the new Manchester United manager. Taking over from Sir Alex Ferguson was like being handed a poisoned chalice. Yes he was inheriting a team of champions but the pressure and weight of expectation was sure to sit heavy on his shoulders. A toothless display in the goalless draw with Chelsea was followed up by another unconvincing performance in the 1-0 loss to Liverpool at Anfield. Four goals against Bayer Leverkusen certainly handed Moyes a timely boost but being thrashed at the hands of your nearest rivals was another crushing blow.
As poor as Manchester United were without their talisman Robin van Persie, Manuel Pellegrini's Manchester City were exceptional. Fast, incisive, commanding, City produced their best performance of the season. Sergio Aguero's bustling style was combined with sheer class in his two finishes, while Yaya Toure and Fernandinho laid the foundation for the victory by taking control of the midfield. Vincent Kompany and Matija Nastasic looked formidable and City must feel if they play like this they will certainly be in contention to regain the Premier League crown.
Magical Mesut Steals the Show as Wilshere Influence Decreases
In the last few weeks it has been Aaron Ramsey stealing the headlines for Arsenal but this weekend we began to understand why Arsene Wenger was prepared to smash his transfer record to snap up Mesut Ozil. The German playmaker was instrumental throughout in the 3-1 win over Stoke as he provided goals for Ramsey, Per Mertesacker and Bacary Sagna. Still adapting to his new teammates and a new country, Ozil is sure to improve and become even more influential as Arsenal look to finally end their long wait for a trophy.
However, while Ramsey and Ozil have taken centre stage in recent weeks, Jack Wilshere has struggled to discover his best form. He is seeing less of the ball and still seems short of genuine match fitness. For so long he has been hyped as the great saviour of English football, but perhaps it will be good for the 21 year old to take a less high profile role and learn from players likes Ozil and Santi Cazorla. He has too much talent to not become a mainstay for club and country but Arsenal may just benefit from having more options and offering the young midfielder the chance to step out of the limelight.
Are Tottenham Better Without Gareth Bale?
"Last year with two strikers, we left ourselves exposed a little bit. We have more consistency throughout and play better football. We are able to control the games." Andre Villas-Boas was clearly impressed with Tottenham's display against Cardiff. They may only have gained three points thanks to a 90th minute winner from Paulinho, but they dominated the game and peppered David Marshall's goal. Had it not been for the Scottish stopper then it could have been a much more emphatic scoreline.
Spurs may have lost Gareth Bale but they have gained several players who give Villas-Boas a wealth of options. He has natural wingers in Aaron Lennon, Erik Lamela and Nacer Chadli. If he requires guile and intelligence then Christian Eriksen provides the perfect link between midfield and attack. There is power in midfield provided by Paulinho, Sandro and Etienne Capoue, while Roberto Soldado seems tailor made to play the lone striker role. Tottenham currently sit joint top alongside bitter rivals Arsenal and will hope the balance of power can finally shift from the Emirates to White Hart Lane.