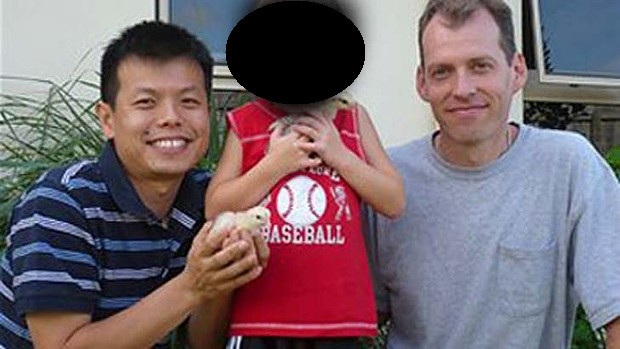 Convicted paedophile Peter Truong has claimed he misses the son he and his partner flew across the globe to be systematically abused by other men.
Truong and partner Mark Newton bought their son, who cannot be named, for $8,000 in 2005 before sexually training him how to be exploited.
Images found found on computer in the Truong-Newton home showed the boy had been whisked to 30 countries in six years so he could be sexually abused by unidentified men of the 'Boy Lovers' community.
Truong and Newton filmed dozens of hours of sickening footage on their global tour of abuse.
The couple had travelled so frequently with their son that by the time he was three-years-old he had already used up his passport pages.
Police officers from Australia, New Zealand and the United States worked together on the investigation into the online group which expopsed a haunting global paedophile ring. Millions of images of abused children was unearthed.
Truong was sentenced to 30 years in jail in December 2013 and Newton was sentenced to 40 years.
American lawyer John Rex Powell will also serve at least 20 years in jail for his involvement in the ring.
Speaking exclusively to Australian network ABC's Four Corners programme Truong said he had distanced himself from other convicted sex offenders in the Florida prison where he is serving time.
"I'm locked up with a lot of predators here who have gone out and raped and done a lot of very bad things to children, and that's not me," he said.
"I'm not a predator, I'm not a deviant person by nature as such."
During the interview the paedophile also revealed when he was young he was taught having sex with children was not wrong.
"They pointed me to different psychological studies, different books, different articles, and they even pointed me to history - it's the right thing, it's not bad, it's what [children] want, it's good for them," he told the programme.