A Pakistani Christian woman who was sentenced to death for blasphemy has filed an appeal with the country's top court.
Asia Bibi, a mother of five, was arrested and put on death row in 2010, after she was found guilty of making derogatory comments about the Prophet Muhammad during an argument with a Muslim woman.
The incident occurred in 2009, when Bibi was asked to fetch water at her workplace. Some women objected because Bibi was a non-Muslim, and as such was not allowed to touch the water bowl, let alone drink from it - which she is also accused of doing.
A few days later the women went to a local cleric and put forward the blasphemy allegations.
"On behalf of Asia Bibi I have today filed an appeal in the supreme court," her lawyer Saiful Malook said.
"We expect an early hearing of the appeal and hope that the proceedings will be over in one year."
The announcement came one month after the Pakistani government upheld the woman's death sentence.
'No one should be killed for drinking a glass of water'.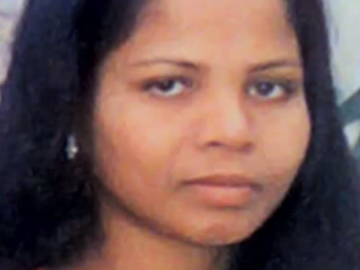 Bibi's husband wrote a letter to Pakistan's President Mamnoon Hussain asking for her wife's release.
"Since Asia was sentenced to death in November 2010 for drinking a glass of water from our village well, my family has lived in constant fear and under death threats," the letter read.
"Since the court confirmed the death sentence on 16 October, we do not understand why our country, our beloved Pakistan, is so against us. Our family has always lived here in peace, and we never had any disturbance.
"We are Christians but we respect Islam. Our neighbours are Muslims and we have always lived well with them in our little village. Today many of our Muslim friends cannot understand why the Pakistani justice system is making our family suffer so much.
"We are now trying our best to present the final case to the supreme court before 4 December. But we are convinced that Asia will only be saved from being hanged if the venerable President Mamnoon Hussain grants her a pardon. No one should be killed for drinking a glass of water."
Blasphemy in Pakistan
Pakistan's penal code states: "Whoever, with the deliberate intention of wounding the religious feelings of any person, utters any word or makes any sound in the hearing of that person or makes any gesture in the sight of that person or places any object in the sight of that person, shall be punished with imprisonment of either description for a term which may extend to one year, or with fine, or with both."
In 1982, a clause prescribed life imprisonment for "wilful" desecration of the Qu'ran.
Then in 1986, a separate clause was inserted to punish blasphemy against the Prophet Muhammad and the penalty recommended was "death, or imprisonment for life".
A British man diagnosed with schizophrenia was sentenced to capital punishment for blasphemy in March 2014. He is currently on death row.
Two high-profile politicians - then-Punjab governor Salmaan Taseer and minorities minister Shahbaz Bhatti - were murdered in 2011, after calling for reforms to the blasphemy law and describing Bibi's trial as flawed.
In October, a Christian couple were beaten and burned alive in a kiln by an angry mob following allegations of blasphemy.