All the 48 dead bodies of the victims of the Pakistan plane crash are charred beyond recognition as the DNA testing of the passengers and crew members is set to begin. Rescue officials say there were only limbs and other body parts found scattered at the crash site.
The identification process has already begun as the country mourns one of the worst aviation disasters. Officials say the body parts of 46 victims have been collected so far. The Pakistan International Airlines (PIA) flight, an ATR-42 turboprop aircraft travelling from Islamabad to Chitral, crashed in a mountainous region after bursting into flames. The civil aviation authorities have confirmed there were no survivors.
"The dead bodies will be taken to Islamabad in helicopters ... for DNA testing and identification. Not one body was intact," Muhammad Abbas, a hospital official in the town of Abbottabad told the AFP news agency. All the dead bodies have been shifted to the Ayub Medical complex in Abbottabad.
"The bodies we have taken out are in pieces. They are beyond recognition. We cannot tell women from men... they are just legs and arms," an eyewitness Jumma Khan was quoted as saying. Images posted on social media show a trail of wreckage engulfed in flames in the mountainous region. The Pakistani army has been drafted in to lead the emergency measures as Prime Minister Nawaz Sharif has directed personnel to quicken the efforts.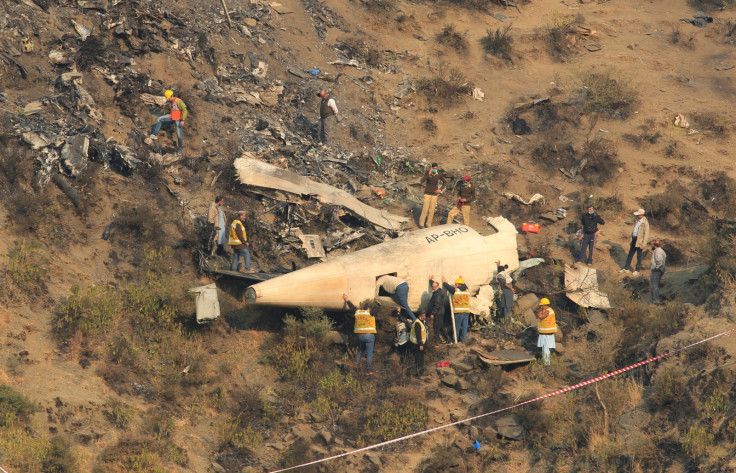 The cause of the crash is being investigated as officials have ruled out a human error. The pilot Saleh Janjua, who has clocked more than 12,000 flight hours, issued a "mayday call" over an engine failure shortly before the plane went down.
When asked about the aircraft's flying condition, the airlines' chairman Muhammad Azam Saigol said: "I want to make it clear that it was a perfectly sound aircraft. I think there was no technical error or human error. Obviously, there will be a proper investigation."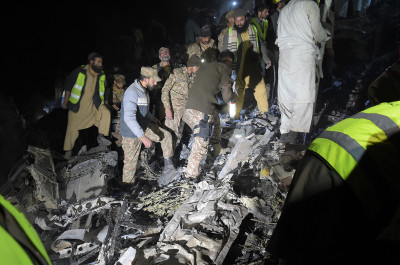 Among the passengers were two Austrians and a Chinese who were working for an Austrian engineering group Andritz in a hydropower project. "Our compassion is with the families, whom we will give any support," said the company's spokesperson. There were nine woman and two infants on the doomed flight.