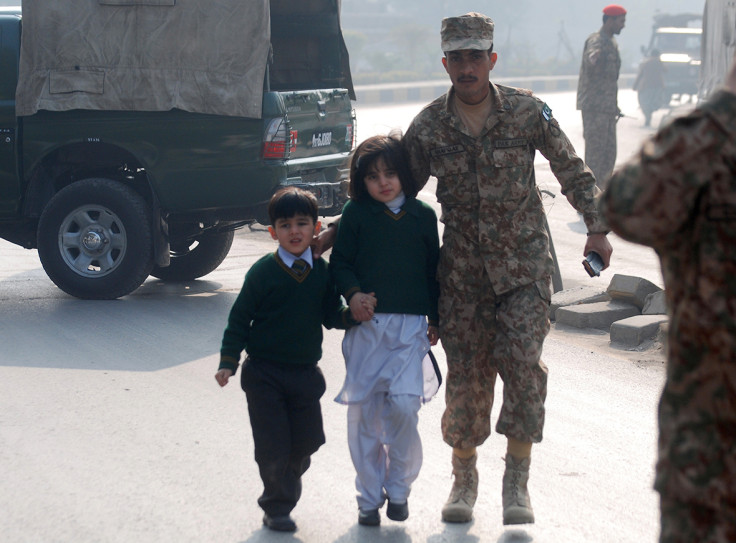 Defying Taliban militants, students all over Pakistan returned to schools after the deadly 16 December attack in which around 150 people were killed, including 134 children.
All schools were shut in Pakistan for an extended winter break, after gunmen and suicide bombers went on a rampage at the Army Public School in Peshawar, killing the principal, staff, teachers and students.
According to a report, schools remained shut all over the country so that authorities could beef up security.
There were around 20 soldiers at the entrance of the Army Public School in Peshawar, where the massacre occurred, and a high security gate was installed, the report said.
The Telegraph reported that students in green uniforms, and their families returned to the Army Public School in Peshawar, where a ceremony was due to be held to pay homage to those who were killed in the attack.
The boundary walls of the school have been elevated and wired fencing has been placed atop walls in all schools in Pakistan.
The 16 December massacre was one of the worst militant attacks in the history of the country.
To deal with the trauma of the incident, many students had undergone counselling. However, many students still feared going back to schools.
According to an AFP report, for a 16-year-old student, who was shot in both legs, going back to school was traumatic.
The Sydney Morning Herald, citing agencies, quoted him as saying: "I have lost 30 of my friends, how I will sit in the empty class, how I will look to their empty benches," he said before the school reopened. "My heart has been broken. All the class fellows I had, have died, now my heart does not want to attend school."
There were many others who did not fear the Talibani militants and wanted to defy them.
Lessons however, will begin only next week at the Army Public School in Peshawar.