The man believed to be the 'mastermind' behind the savage Peshawar school massacre, has been killed in a shootout by police on Christmas Day.
A Pakistani official confirmed the reports that the militant, who is known only as Saddam, was killed on Thursday (25 December) in an hour-long gunfight with security forces in the Khyber tribal area, which borders Peshawar.
The head of the local police administrative services, Shahab Ali Shah, said six accomplices were also injured and arrested in the shootout. Authorities are currently interrogating the surviving militants who were reportedly planning more attacks targeting children.
According to authorities, Saddam helped orchestrate the Peshawar school attack which left 148 people dead, 132 of them children.
Militants broke into the military-run school on 16 December and fired indiscriminately at children in their classrooms, also killing nine teachers.
Children who survived the massacre described how their classroom was turned into a "pool of blood and death."
A week ago the key suspect was identified as Umar Mansoor, who took responsibility for the slaughter in a video posted online.
The senior Taliban commander said the school attack was "revenge" for the army's campaign against the militants.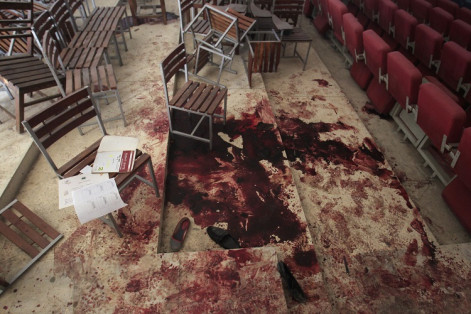 He was also involved in planning attacks on health workers giving polio vaccinations in the Peshawar valley.
He vowed more attacks if Pakistani forces do not scale down the anti-terror operations.
The horrific slaughter of children by the Taliban saw a moratorium on the death penalty for terrorists lifted.
Six militants have been hanged in the last few days, with government officials now telling AFP they plan to execute another 500 in the coming weeks.
In a crackdown against terrorists, Pakistan also responded with air strikes against militants.