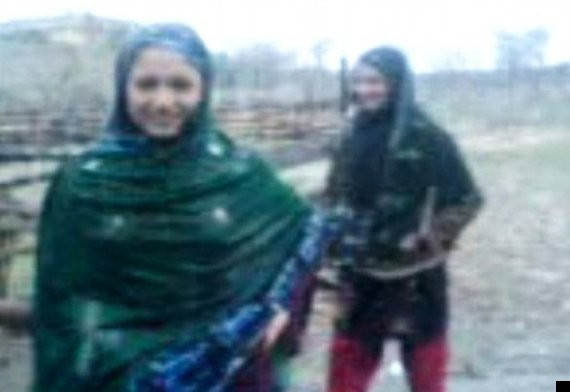 Two teenage sisters from Pakistan have been shot dead for allegedly dishonouring their family by allowing themselves to be filmed dancing in the rain.
According to local reports, Noor Basra and Noor Sheza, aged 15 and 16, were murdered by five masked men at their home in the northern region of Gilgit after a clip of the pair went viral. Their mother Noshehra was also killed in the attack.
The 90-second clip, which shows the girls playing while dressed in traditional shalwar kameez trouser suits and headscarves, was filmed outside their bungalow six months ago.
They dance while one of the sisters smiles for the camera.
But the footage provoked outrage in their conservative Pakistani hometown after it was circulated via mobile phone.
According to The Sunday Times, police are investigating whether the attack was arranged by the girls' step-brother, in a bid to 'restore the family's honour' .
Police confirmed they arrested Khutore, who is believed to have carried out the honour killing with four other accomplices.
"It seems that the two girls have been murdered after they were accused of tarnishing their family's name by making a video of themselves dancing in the rain," a police officer told News24Online.
The girls' other brother is suing stepbrother Khutore and the four other men, who are all thought to be on the run.
The Human Rights Commission of Pakistan said that in 2011, 943 women were killed for apparently causing shame to their families,
In November a Pakistani couple admitted killing their 15-year-old daughter because she "looked at a boy".
Four women were also allegedly killed last year by tribal elders for dancing and singing with men at a wedding party in the remote north-western village of Kohistan.