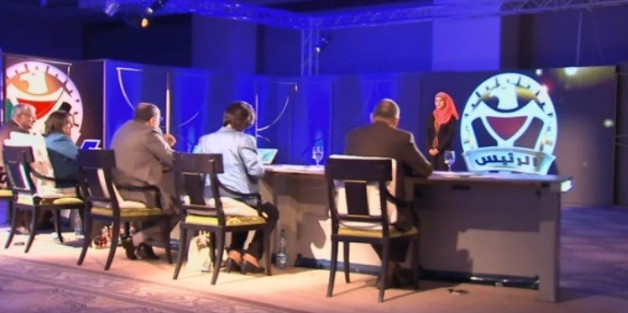 A reality TV show in which contestants elect the nation's next president has become an overnight hit among Palestinians frustrated at the lack of political change in the occupied territories.
Billed as "part X-Factor, part-Apprentice", the show, entitled The President, sets contestants tasks such as being ambassador to a European country for a day, running a major corporation, fielding questions from international reporters and even conducting inspections of the military guard.
Judges include Palestinian politician and human rights activist Hanan Ashrawi, Arab-Israeli MP Ahmad Tibi and Ammar Aker, chief executive of Palestine Telecommunications Group.
Viewers vote by text message to elect a President of Palestine - a prize that has eluded its people since the creation of Israel in 1948.
The winner will leave with the more modest prize of a family saloon car, along with the hopes and dreams of a stateless people, and a career-break into the fraught realm of Palestinian politics.
Raed Othman, director of the Ma'an network, which produces the show, said: "We have to show that the Palestinian people understand and want real democracy. We want elections, real elections. But if we cannot have them then we can do our own.
"There are a lot of people who say we don't have leaders, so we need to prove to them that there are a lot of leaders in Palestine. We want to teach the people that democracy is possible whenever we want."
Contestant Baha'a al Khateeb, an adult education manager, said: "This programme will give me the chance to get inside this procedure without needing at least 20 or 30 years of step-by-step involvement in the political situation."
A shortlist of 1,200 contestants has been whittled down to 16 finalists since the show was launched on March 14.
Producers say they aim to give air time to a new generation of Palestinians who have "opted for a creative and non-violent approach to the problems they face".
The office of Palestinian President Mahmoud Abbas said it was aware of the show, but had no involvement in its production.
More than four million Palestinians have lived under Israeli occupation in the West Bank and Gaza Strip since the 1948 Arab-Israeli war.
The UN recognized Palestine as an "observer state" last November, angering Israel, which retaliated by announcing it would step up construction of settlements in occupied land.