The Palestinian teenager killed in a suspected revenge attack was burned alive, the Palestinian attorney-general has said.
Mohammed al-A'wewy was quoted by the Palestinian official news agency Wafa as saying: "The direct cause of death was burns as a result of fire and its complications."
Mohammed Abu Khudair, 17, was kidnapped in East Jerusalem on Wednesday. His charred remains were discovered hours later in a forest on the edge of the city.
Palestinians believe Khudair was killed by far-right Jews in response to the murder of three Israeli teenagers, who were kidnapped on 12 June and later found dead in the occupied West Bank.
An autopsy of Khudair by Israeli doctors showed he suffered 90% burns and a cut to the head. Saber Al-Aloul, the director of the Palestinian Forensic Institute, also attended the post-mortem examination.
According to al-A'wewy, Al-Aloul reported that dust was found in Khudair's respiratory canal which meant "the boy had inhaled this material while he was burned alive".
At Khudair's funeral on Friday, Palestinians called for a new uprising against Israel, chanting "Intifada, Intifada".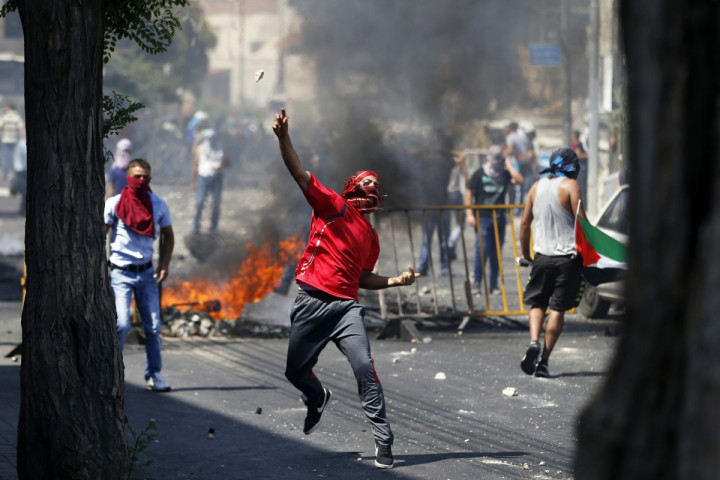 Palestinians fought with Israeli police, who attempted to contain crowds using tear gas, stun grenades and rubber bullets.
Unrest spread across the occupied West Bank, with at least one Palestinian hurt in the city of Nablus.
Israeli prime minister Benjamin Netanyahu said Khudair's killing was 'loathsome' and ordered a police investigation.
Last month, the bodies of Israeli teenagers Naftali Frenkel and Gilad Sha'ar, both aged 16, and 19-year-old Eyal Yifrach, were found in the West Bank. An Israeli military spokesman said their bodies were found in a pit located in a field near the Palestinian town of Halhul.
The murder provoked a strong reaction from Israel and inflamed tensions with Palestinians. Netanyahu said the Israeli teenagers were "abducted and murdered in cold blood by human animals".
He added: 'On behalf of the entire Jewish people, I would like to tell the dear families – the mothers, fathers, grandmothers and grandfathers, and brothers and sisters – we are deeply saddened. The entire nation weeps with you.'
Israel has accused Hamas of being responsible for the murders, a claim the group denies.