Former Baywatch star Pamela Anderson has sparked rumours she is romantically involved with Julian Assange after visiting the exiled WikiLeaks founder five times in the last four months.
The 49-year-old actress first raised eyebrows when she descended on the Ecuadorean embassy- where he has been living for five years after being granted political asylum – on 15 October. She was then seen at the premises on 13 November and 7 and 12 December and most recently on 21 January. On each occasion, she was carrying what appeared to be lunch for two.
Anderson and Assange struck up an unlikely friendship after being introduced by designer Vivienne Westwood in August 2014. She has spoken highly of the Australian computer programmer, saying in October 2016: "I really believe in him and think he's a good person, and I'm concerned about his health, his family, and I just hope that by some miracle he's set free."
The Playboy model-turned-animal rights activist joked: "I brought him a nice vegan lunch and some vegan snacks." She then joked: "He said I tortured him with bringing him vegan food".
IBTimes UK has reached out to Anderson's representatives and is awaiting a reply.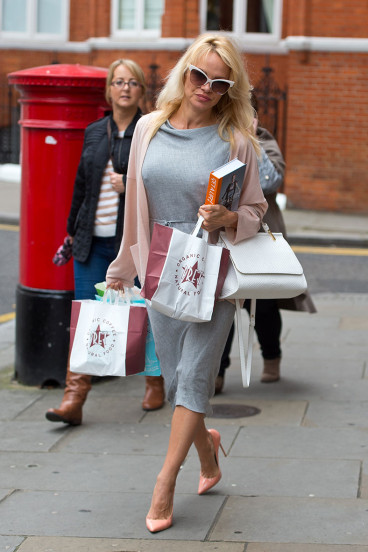 But their apparent penchant for vegan lunches is not the only thing the pair have in common. They are said to also share a mutual appreciation for Russia.
Assange, whose alleged involvement in the US election recently made headlines, is believed to be getting much of his intel from Russian hackers.
The former actress set up The Pamela Anderson Foundation which aims to advance human, environmental and animal rights in 2014. The activist then attended a trade show in 2015 in Vladivostok and also visited the Kremlin to discuss Russia's wildlife conservation with Vladimir Putin's chief of staff, Sergei Ivanov.
The mother-of-two said in December 2016: "I have a very strong connection to Russia. My mom is a little bit Russian, I guess, generations ago. So I feel a connection to the culture and the people."
"I think that Russians really get things done," Anderson added. "I have a Canadian passport and an American passport, I would gladly have a Russian passport. It would be great. It would be easier to get here."
Considering that Assange previously said that he was "a bit pale'' after four years without sunlight, there is a good chance that Anderson's visits may be brightening up his days.