Amazon is working on how to drop packages into our gardens by parachute, a new patent has revealed.
The patent details a new type of shipping label which contains a deployable parachute. Sketches show how two labels stuck to a package would release the parachutes when it is dropped from a drone or other aircraft, before landing gently in the customer's garden.
Amazon is already working hard on making drone deliveries a reality with its Prime Air service, currently being trialed by a couple of customers in rural Cambridgeshire.
Unearthed by GeekWire, the patent shows how the new shipping labels would contain the parachute and cords, as well as a harness to keep everything in place. The package would be secured to a drone with a fixed line, carried to the airspace above a customer's house, then dropped. This would open up the shipping label and deploy the parachute stored beneath.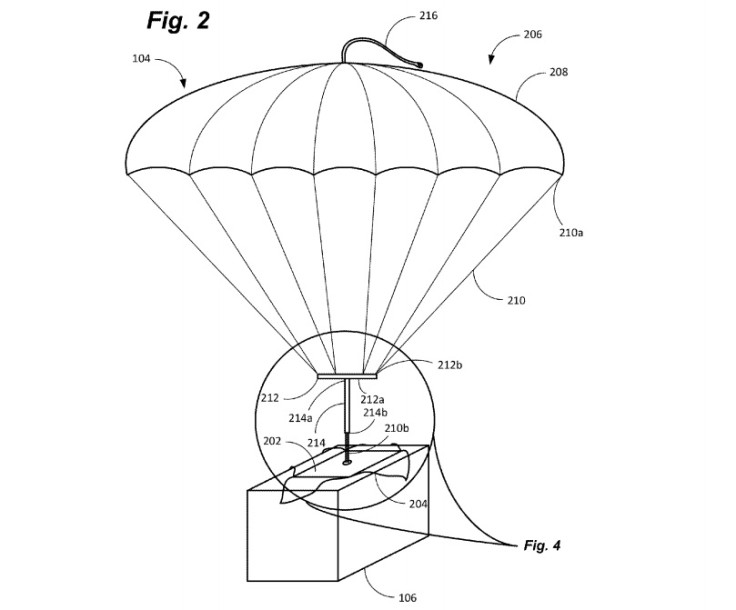 Until now, Amazon's Prime Air delivery tests have focused on drones landing in a customer's garden, then releasing a package from just a few inches above the ground, before taking off again and returning to the local distribution centre.
The patent, which was first filed back in August 2015 but has only just come to light, was granted by the US Patent and Trademark Office on 29 May, 2017. It comes soon after another patent was granted in February, detailing how Amazon would release packages from delivery drones flying above our houses.
Amazon still faces many regulatory hurdles before it can turn its Prime Air trial into a real-world service, but the regular updates and constant progress - as well as some slick marketing videos - show the company is confident about making drone deliveries a reality.