The San Fermin festival in northern Spain attracts over one million visitors every year, who all crowd the narrow, cobbled streets of Pamplona for one of the fiesta's most controversial attractions: the running of the bulls. Although event has long been widely criticised by animal rights activists as unethical, another problem has remained relatively concealed: sexual assaults on women.
Reports of groping, verbal harassment and sexual violence have become increasingly common. For the first time last year, a team of police officers focused specifically on preventing sexual assaults were deployed to patrol the streets during the nine-day festival, after Spanish women's rights groups highlighted the problem.
Teresa Zabalegui and María Palacios, from Pamplona's Plataforma Contra la Violencia Machista (Platform Against Male Chauvinist Violence), say attacks vary from verbal abuse to physical violence.
"Verbal harassment, vulgar comments, groping, hitting, sexual abuse are all reported, but some of the most extreme attacks include rape and murder," they said, referencing the murder of Nagore Laffage during the festival in 2008. Laffage, a young nurse, was killed by Jose Diego Yllanes after she refused him sex.
"Attacks against women during San Fermin have always existed and they are part of a structural problem of patriarchy in society," Zabalegui and Palacios told IBTimes UK. "The city council has previously downplayed the attacks, making the issue invisible. It is difficult to find real data on the number of sexual assaults because many go unreported and unregistered."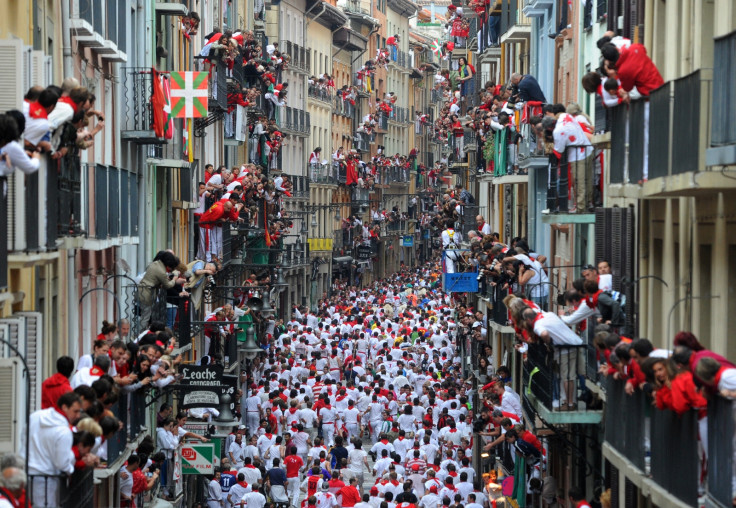 In 2013, the group launched a campaign to highlight the problem of sexual assault during the festival. "We saw that the image of San Fermin as an 'anything goes' festival was growing. We thought the city council should intervene because small feminist groups like ours don't have the financial means to solve a public and social problem that affects all citizens."
The group pushed for more information on sexual assaults in bars and better support to allow victims to come forward more easily. Many of these measures were adopted in 2014 and carried through to this year, while increased media coverage has helped highlight the problem.
"Guides have been published in four languages – Spanish, Basque, English and French – with information about what is gender-based violence, where you can go if you experience aggression, which attitudes are not allowed and emergency helplines," said Zabalegui and Palacios. An information point has also been set up in downtown Pamplona's Plaza del Castillo.
As part of a crackdown on attacks, police have also filmed the "chupinazo" – the opening ceremony of the festival which sees thousands of revellers spray each other with wine – from apartment balconies, to help identify perpetrators of sexual assaults. The mayor of Pamplona, Enrique Maya, has previously expressed concern about sexual assaults "especially during the Chupinazo, which present a negative image of the city".
"It doesn't matter where visitors are from, whether they are from Pamplona or abroad, they must behave with respect, treat women as equals and know that they can't do whatever they want," Zabalegui and Palacios said.
"The fact they are having fun and drinking does not give them any right or excuse to carry out disrespectful behaviour towards women."