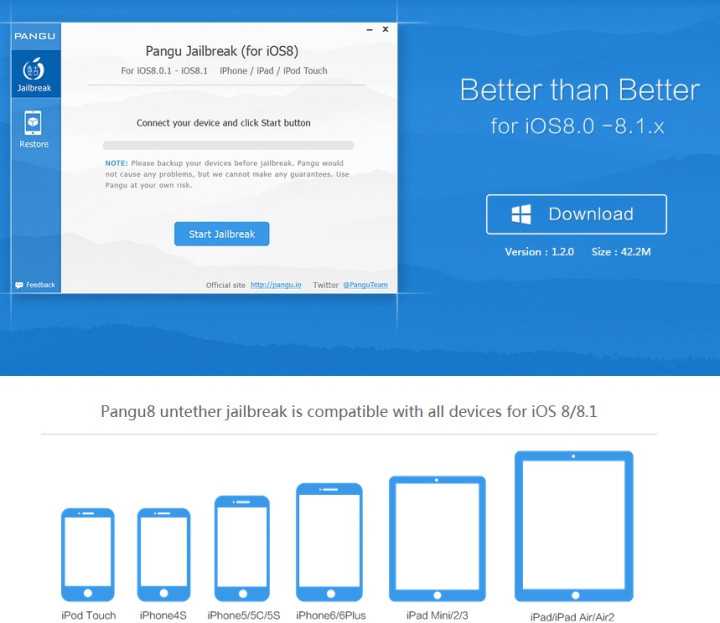 The Pangu team has released a new update to their untether jailbreak tool, Pangu8 1.2.0.
A few days ago, the Chinese jailbreak team issued Pangu8 v1.1.0 as a Halloween gift for the jailbreak community. The version brings the most anticipated English support and the latest Cydia.
Within less than the span of a week the team has rolled out Pangu8 v1.2.0 weighing 42.2MB. The latest 1.2.0 version brings the fixes which were included in the Pangu iOS 8-iOS 8.1.x Untether Update 0.3 and 0.4 packages, reports iPhone Hacks.
The fix is for an issue on 32-bit devices, such as iPod touch 5g, iPhone 4S, iPhone 5, iPad 2, iPad 3, iPad 3 and first generation iPad mini, for a specific background process 'launchd' which results in burning CPU and even battery drainage.
Besides, the Pangu8 1.2.0 also fixes the Safari bug along with occasional crashing issues. Check out the Pangu8 1.2.0 changelog.
Pangu8 1.2.0
Fix the issue that launchd may drain cpu on 32bit devices
Fix Safari reloading bug and occasionally crash problem
Optimise jailbreak process
Restore function now support iPad Air2/iPad Mini3
Pangu8 is an untether jailbreak for all devices running iOS 8-iOS 8.1.
Compatible devices
iPhone 6, iPhone 6 Plus, iPhone 5s, iPhone 5c, iPhone 5, iPhone 4S
iPad Air 2, iPad Air, iPad 4, iPad 3, iPad 2
iPad mini 3, iPad mini 2, iPad mini
iPod touch 5g
Download link: Pangu8 1.2.0 [Windows] Alternate link
If you are looking for a tutorial, head over here to know how to jailbreak iOS 8-iOS 8.1 untether using Pangu8 and install Cydia on Windows.
If you have already jailbroken your devices, there is no need to re-jailbreak the iOS device. You can install Pangu untether update 0.4 from Cydia to fix these issues.