As UK voters head to polling stations to decide the outcome of the EU referendum, an independent developer has created an interactive fiction game which paints a bleak picture of a post-Leave Britain.
Paper Brexit – available to download for free on both PC and Mac – puts the reader/player in the shoes of a journalist discussing the fallout of the referendum with his editor. During the story it is revealed that a far right-wing government has taken power and President 'Drumpf' controls the White House.
Told entirely through text against a backdrop of the Union Jack, the interactive fiction (IF) opens with a single button that simply reads "Press this button to leave the EU". From there, the story's alternative history unfolds set to a ghostly ambient soundtrack and the cold, echoing taps of a typewriter.
The "sick and hollow" Britain portrayed in the tale not only features the aforementioned satirical portrayal of Donald Trump (Drumpf), but also David Cameron (Blameroon) and Boris Johnson – the latter appearing as Paper Brexit's fictional Prime Minister, dubbed Doris Thompson.
I won't spoil any particular moments in Paper Brexit (which you can download via ichi.to here), but there are several dialogue choices that are particularly eerie, while the ending brilliantly ties together the IF's themes of fear, separation, blame and truth in a dark, haunting manner.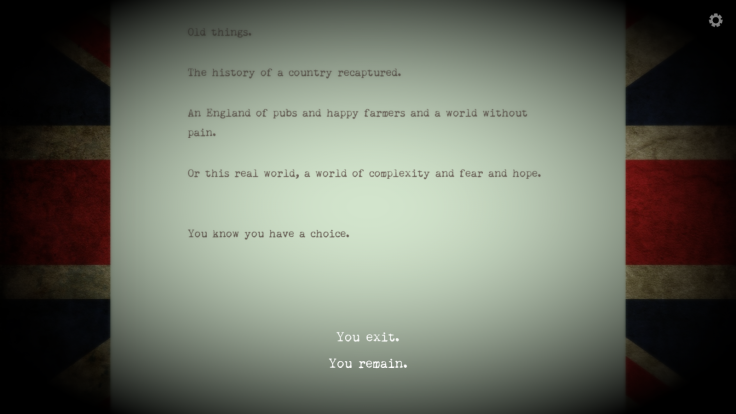 The writer of Paper Brexit, Greg Buchanan, cites influences such as Martin Scorsese's seminal 1976 film Taxi Driver and the oddball YouTube series Don't Hug Me I'm Scared for the sombre and sometimes bizarre tone of the piece. In a blurb on his website, Buchanan notes his own political stance and staunchly advocates a vote for Remain.
"I feel increasingly troubled by the general anti-migrant, anti-co-operation, isolationist, 'let's go it alone' world-view that seems intrinsically linked to a Brexit outcome," wrote Buchanan. "The world just seems to be going utterly crazy at the moment, so I think it's influenced my writing as a reaction. The whole thing is ugly. This game is a surreal, nightmarish expression of my feelings on current British (and wider) politics and the role of the media and individuals have to play in this system."