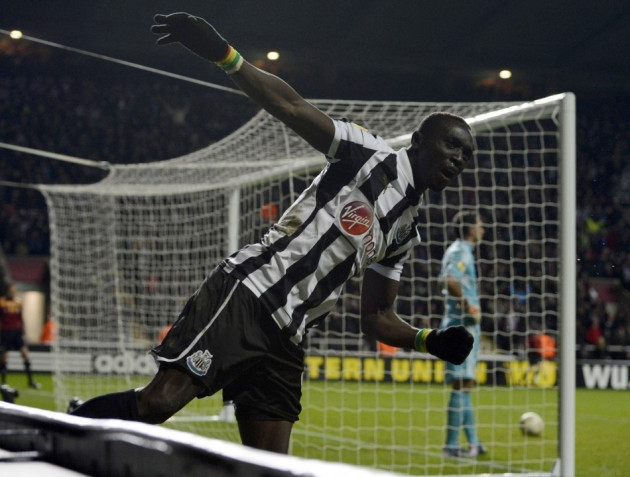 Newcastle United's Senegalese striker Papiss Cisse is out of the club's pre-season trip to Portugal after refusing to wear new sponsor Wonga's logo.
Cisse, a devout Muslim, claimed Wonga's money-lending practices offend his religion - which prohibits lending money at interest - and refused to wear any first-team shirt or training top bearing the company's insignia.
Under the terms of Newcastle's £24m sponsorship deal with Wonga, agreed last October, players are obliged to wear the company's logo on their kit while travelling and during matches.
In an attempt to end the impasse, Cisse did offer to wear a shirt bearing a charity logo, or one without any branding at all. However it is reported that the 28-year-old's offer has been declined by club owner Mike Ashley, who is determined to honour the agreement with Wonga.
It is reported that Cisse, 28, made his opinions known to the club in June, and several meetings have taken place between the player, club and Professional Footballers' Association since then.
However it appears the talks have done little to resolve the problem, with a club source telling the BBC that the relationship between the parties was "strained." The player was told to stay away from club premises until the dispute was resolved, and was ordered to train on his own when he arrived at the training ground in defiance of the ban.
Reports differ as to why Cisse is not going on tour. The BBC claims the player withdrew from the pre-season trip, while the Daily Mail reports that the club dropped him.
No British precedent
Newcastle's six other Muslim players have shown no reluctance to wear the new sponsor's logo despite Cisse's stance. Reports suggest team-mates Cheick Tiote and Moussa Sissoko have explicitly told the club they have no problem with the logo.
There is no British precedent for Cisse's case. However, in Spain, Sevilla's Muslim striker Frederic Kanoute was allowed to wear a logo-less shirt after the club signed a deal to promote a gambling company.
Newcastle, who signed Cisse for £9m in January 2012, have yet to issue a statement about the dispute.