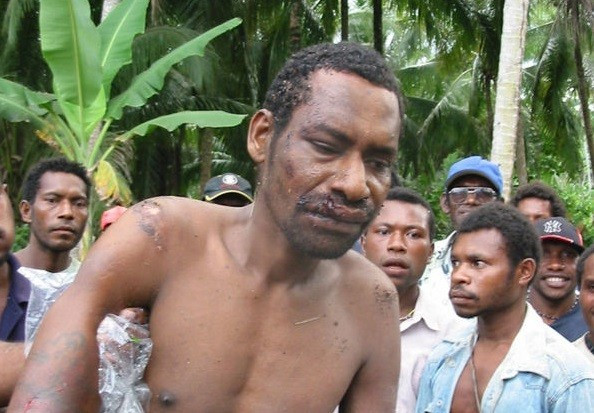 A Papua New Guinea cult leader known as "Black Jesus" was castrated and disemboweled by villagers after being hacked to death.
Police said that Steven Tari was hunted down by a mob of villagers, after allegedly killing a teenage girl during a sacrifice ritual.
Tari, who is believed to be 42, escaped from prison in March. He had been serving a 20-year sentence for raping four girls.
The cult figurehead had been planning to leave Papua New Guinea for Israel and had arranged to leave the island via helicopter. His followers had even bought him a farewell pig, but he was killed before the feast.
He had studied to become a Lutheran minister at a Bible college in Madang but instead became a cult leader, amassing thousands of followers, including armed warriors who protected him.
He was captured in 2007 and although he was only charged with rape, he was also accused of cannibalism, human sacrifice and blood rituals. He told his followers that young "flower girls" should be married to him as it was God's prophecy.
Outnumbered
Police criminal investigation officer Ray Ban said Tari and his followers killed 15-year-old Rose Wagum during a sacrifice ritual.
Lebu, the local court magistrate, said 80 men from a cluster of villages then formed three groups to hunt down Tari and a 15-year-old follower. They found him when he was attacking another girl.
"The 80 men separated into three groups. One group disturbed and chased him while he was conducting his morning ritual," Lebu said.
Tari escaped but encountered another group of men, who killed him. "He injured two of those men but they outnumbered and killed him," Lebu claimed.
The vigilantes dumped his body in a shallow pit, which was later exhumed by police. Dr Juith Gawi of Modilion Hospital, who helped dig up his body, said Lebu "was chopped and slashed with bush knives on both arms and legs, chest and stomach which revealed his intestines. He was also castrated."
Ban said he hopes Tari's death will stop cult practices taking place in the area.
"Tari is dead and this cult worship dies with him," he told locals. "Stop this worship now. If I hear any more cult worship here, I will return with my men."