Thousands of fans of the late singer Christina Grimmie lined up outside the Fellowship Alliance Chapel in New Jersey on 17 June to attend the public memorial organised a day after her funeral. Grimmie was shot dead at her concert in Orlando on 10 June.
A large photograph of the 22-year-old former Voice contestant was on display and her songs were played through the evening as people visited to pay their respects. Her parents Bud and Tina Grimmie made emotional speeches during the event.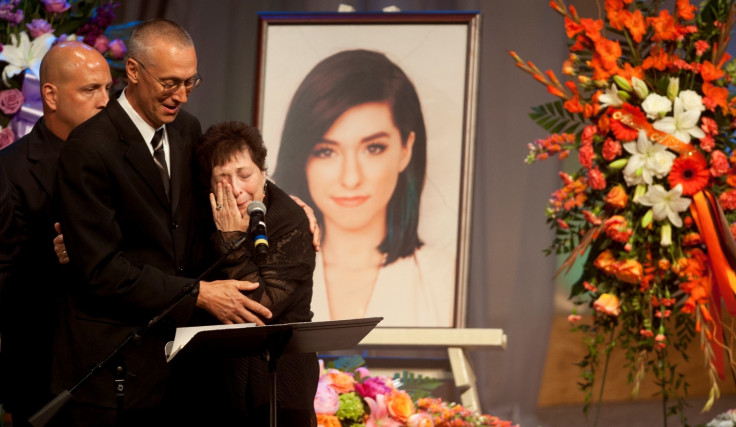 "I don't have too much to say," Tina began. "To anybody who says that I'm strong, I want you to know that I'm the weakest person here and I declare my dependence on Jesus Christ because I don't have anything else. It's just so much..."
She then broke down in tears and was comforted by her husband who then took to the podium.
"I don't like being in front of crowds, but this crowd has blessed me beyond words. I want to share what I've shared with several people here and that's there's this gigantic hole in my heart that I know is never going to go away," he said.
"But God showed me that he's way bigger than that hole. The three things that keep me walking upright, otherwise I would just be a crumpled up mess in the corner, are that: I know I'm going to see her again...she's way better off now, she's more alive now than she's ever been, she's not going to be hurt anymore, and thirdly, and this is where I'm wrestling, is that God's plan is better than my plan."
Grimmie's brother Marcus who was responsible for tackling her shooter Kevin James Loibl also spoke at the memorial. "I don't have anything to say, I don't have words still and it's a good and bad thing" he mentioned. "All I'm going to say is thank God for the mark that she left on this world. Thanks mom and dad I know it's going to be really tough for us to move forward."