A vigil was held in memory of former Voice singer Christina Grimmie on 13 June in Evesham, New Jersey, three days after she was shot and killed by a man at her concert. Her brother Marcus, who tackled the gunman before he shot himself, also attended the event for his sister.
He gave an emotional eulogy in front of the late singer's friends and fans. "Christina was awesome...She loved this town, she loved this state, she loved singing, she loved the Lord and she loved me and she was just my baby sister," he said.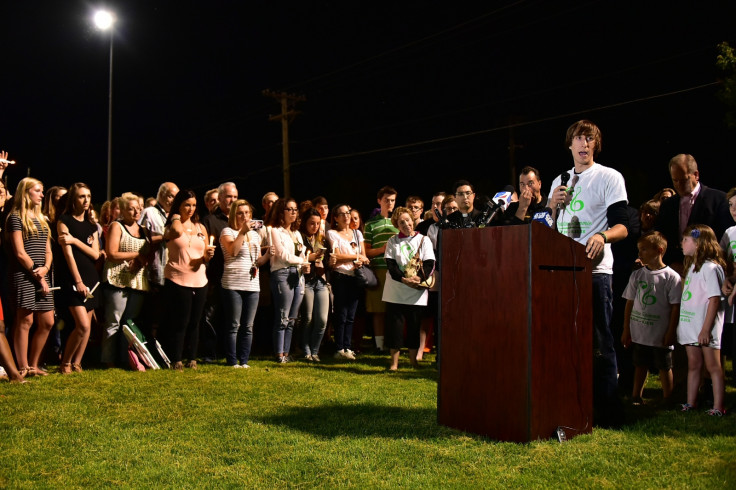 He also offered his condolences to the families of victims of the attack at the LGBTQ nightclub in the same city Orlando, which took place only two days after Grimmie's murder, on 12 June.
"About four miles away from where we were staying, there was a huge tragedy to Orlando, to the US to the LGBT community and to the whole world," he said. "I mean, 50 people dead, who knows who is injured. And I come home to this... I have no words. All of those people that died and are suffering. My heart goes out."
Kevin James Loibl, 27, shot and killed Grimmie, 22, during a meet-and-greet with fans following a concert on 10 June in Orlando.
While the family of Grimmie's killer may not be too keen to talk to the press and deal with the residual dislike, they were still keen that the singer's family know that they felt "deepest sorrow" over the loss.
On 11 June, WFTV 9 Orlando reported that a note had been taped on the front door of a house in Florida, believed to be that of James Loibl's family, and may probably have been put up by the family itself.
"Deepest sorrow for lost. To the family, friends and fans of the very talented, loving Christina Grimmie. No other comments," the note stated.
The news station also tried to get in touch with them, but the Loibl family were unresponsive.
According to reports, the Must Be Love singer and Loibl did not know each other, which has left the local police with no idea of the motive behind the shooting.