Parents of children who were caught up in the mass shooting at a school in Florida still do not believe stricter gun control laws are needed in the US.
The massacre at Parkland's Marjory Stoneman Douglas High School on the afternoon of 14 February is believed to be the 18<sup>th school shooting in the US in the first two months of 2018.
At least 17 people were killed after suspected gunman and former student Nikolas Cruz walked into the school and opened fire, committing the deadliest shooting to occur at a US school since Sandy Hook in Newtown in 2012.
The weapon the suspect is believed to have used to carry out the massacre was a semi-automatic AR-15 rifle, the same type of gun which was among the cache of arms found in the hotel room of Las Vegas gunman Stephen Paddock after he carried out the worst mass shooting in modern US history in October.
One of the pupils caught up in the attack, 15-year-old Sarah Crescitelli, described how she hid in the school's drama building while the shooting was taking place, fearfully sending her mother a text message which read: "If I don't make it I love you and I appreciated everything you did for me."
After he was reunited with his teenage daughter, John Crescitelli described how school shootings in the US "have to stop". He told the Guardian: "This is crazy. My son's football coach died. It's horrible. It's like Columbine across the street from my house."
When asked whether the tragedy should result in stricter gun control laws in the US, Crescitelli replied: "I don't want to get into a gun debate. I really don't. What are you going to do? Confiscate everybody's guns? We have millions and millions of weapons. I'm a gun owner. I don't want the government taking my gun."
Michael Irwin, another parent whose son managed to escape the school unharmed, added: "All the regulation in the world wouldn't have prevented necessarily what happened today. It's something that's tragic, but what regulation can you pass that takes away the guns that are already out there?"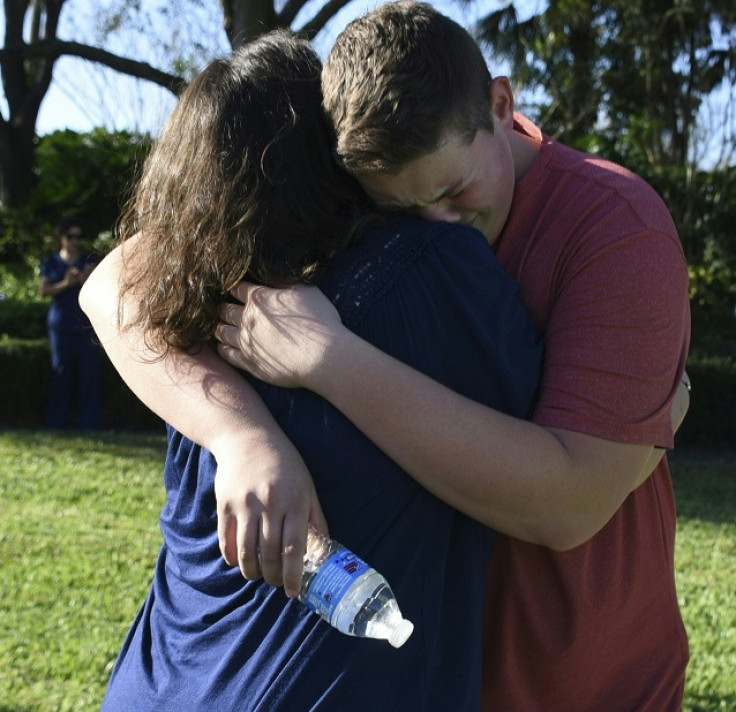 The view was not shared by Senator Chris Murphy, who gave an emotional speech in Congress following the the attack, noting that these sorts of shootings "happen nowhere else other than the United States of America".
He said: "This epidemic of mass slaughter, this scourge of school shooting after school shooting after school shooting... it only happens here not because of coincidence, not because of bad luck, but as a consequence of our inaction. We are responsible for a level of mass atrocity that happens in this country with zero parallel anywhere else."
Murphy added: "As a parent, it scares me to death that this body doesn't take seriously the safety of my children, and it seems like a lot of parents in South Florida are going to be asking that same question later today."
Cruz has since been charged with 17 counts of premeditated murder following the shooting in Parkland. He was transferred to Broward County jail following questioning and is expected in court on 15 February.