Audio has emerged of the moment that a suicide bomber blew herself up during a siege by police. Hasna Aitboulahcen, 26, has been dubbed Europe's first woman suicide bomber after she blew herself to pieces during a dawn raid in Saint Denis.
Anti-terror police closed in on the safehouse where she was believed to be in hiding with her cousin, Abdelhamid Abaaou, the mastermind of the Paris attacks that left 129 people dead. A witness said he saw a woman with long, blonde hair - thought to be Aitboulahcen - come to the window about an hour into the siege. The audio was recorded as Aitboulahcen was holed up in an apartment with other suspected Islamic State extremists.
An officer is heard yelling to her: "Where is your boyfriend?" She yells back: "He's not my boyfriend!" The officer shouts again: "Where is he?" She repeats: "He's not my boyfriend!"
A moment later an explosion is heard as she detonated her explosive belt. According to witnesses the blast shattered windows in the street. Her head reportedly flew out of the window and her spine was found on a police car, an official said.
Jean-Michel Fauvergue, 56, the French anti-terror commander who led the raid described the horrific scene saying: "'That's when we saw a human body, a woman's head, fly through the window and land on the pavement, on the other side of the street. A suicide bomber had just exploded. The blast was so devastating that a supporting wall moved."
The French-Moroccan citizen who was born and grew up in Paris, worked at a construction company in the French capital until 2012. Following reports of her death, friends and acquaintances have described her as "a party animal" and a woman with a "bad reputation" with a love of cigarettes and alcohol and no interest in Islam.
Mail Online reports that her brother Youssouf Aitboulahcen said that she never read the Koran and had only started wearing a Muslim veil a month ago. Youssouf described his sister as a lost soul who was troubled after her parents separated when she was five and she was placed in foster-care, suffering violence as a child. He said his own relationship with her was complicated and while he reached out to her, he became increasingly frustrated by her behavour. "She spent her time criticising everything. She refused to accept any advice, she didn't want to sort herself out.
"On the rare occasions that I spoke to her it was to tell her to behave better, to have a better attitude, to be more easy-going about her strict dress code. On Sunday at 7pm she called me because I had called her - and she sounded like she had given up on life." Youssouf said he went to her home check on her but after waiting 15 minutes he left.
"She called me and I put the phone down on her after telling her not to call me any more after the inconvenience she had caused me, getting me to come over for nothing. Finally on Wednesday morning I turned on the TV and I learned that she had killed herself, sacrificing the life that the Lord had given."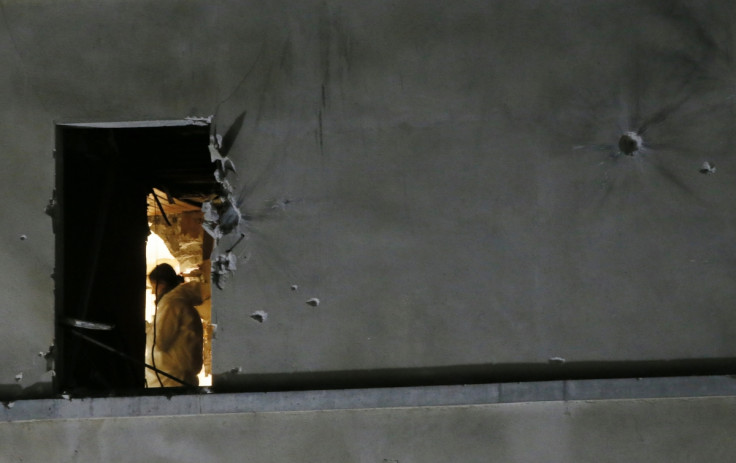 He described her childhood as one marred by violence and neglect. "She had been the victim of violence since she was very young - mistreated and rejected - she never received the love she needed. From the age of five she was taken into care, so she grew up with a foster family. She was happy and she flourished at that point in her adolescence. Then as she grew up she went off the rails. She became reckless, running away and choosing bad company.
"I was never very close to her because we lived apart, but during the opportunities I had to talk to her she was full of enthusiasm, although her instability always dragged her down, she was not grounded in her. She went from one life project to another, without question."
Local residents who were acquainted with Hasna said she was a "party animal who loved clubbing". Amin Abou, 26, said: "'I would see her in this club in Germany which is only ten minutes away but where we go out because its much cheaper for alcohol.
"She came here two or three years ago for two months. She didn't work or go to university. I don't think she even finished school. She loved partying and going to clubs. She drank alcohol and smoked and went around with lots of different guys. She had a bad reputation. She had lots of boyfriends, but nothing serious.
"She had no real friends, just people to hang out with. I think she had a lot of personal issues, with her family. She didn't live with her mum she grew up in children's homes. She has a brother who is mentally disabled and used to live in a home in Marseilles. She grew up in San Dennis a very bad area. And when you don't have family-it's easier to get into bad things."
Another friend Mattius Jacques, 24, said: "She was normal she wore Western clothes, she never wore hijab. She didn't go to mosque or pray. She never spoke about news or Palestine or anything. She wasn't religious at all. She was like you and me, she went out, she lived a free life, always out partying."
Just months before she blew herself up she expressed her dreams of going to Syria.
Two people were killed and seven others arrested during the early-morning raid in Saint-Denis, which involved more than 100 armed officers and 5,000 bullets It was confirmed that Abdelhamid Abaaou the ring-leader behind the Paris attacks was also killed in the siege while police made a number of significant arrests during the raid.