In the middle of 54,000 runners at 12 April's Paris Marathon, Siabatou Sanneh stood out. Carrying a 20kg water container on her head and wearing her race number 64173 on top of a multi-coloured traditional dress, Siabatou wanted to make a statement.
It was the first time the mother of four had ever left her country, Gambia, but this didn't deter her from wanting to raise awareness about the difficulties African women face in accessing clean drinking water. Siabatou was there on the behalf of Water for Africa, a non-profit which builds boreholes in her village.
"I came to Paris to do the marathon to raise awareness and help the African women get clean water for their domestic use - for drinking, cooking, washing and gardening to grow agriculture," the 43-year-old told IBTimes UK, speaking through a translator.
"In my country, you grow what you eat and you eat what you grow, but you can only do that with sufficient water."
Collecting water from the age of 5
By walking the marathon with a plastic barrel of water on her head, Siabatou is hoping to send a message to the leaders at the 7th World Water Forum – which runs until 17 April in Daegu-Gyeongbuk, South Korea. Her statement is simple: she does not want to be drinking water from wells any more.
"I want them to help us dig bore holes, a sustainable water source, but not only more holes, I want more sustainable ones too. That's all we need. I don't want my children to be collecting water from dirty wells when they are older," she said.
In Gambia, Water For Africa estimates between 200 and 300 water pumps would be necessary to supply the population and overcome the 40% to 60% of wells or pumping systems that are crumbling.
Siabatou, who lives in the small village of Bullenghat, which has a population of 300, first started collecting water when she was just five-years-old.
"I wake up in the morning, and go and collect water from a well. I have to walk 8km there, and back. I do this three times a day at least."
There are no roads in Bullenghat, and Siabatou goes to the well accompanied by her daughters, Nyima, 12, and Mamina, 20. All three carry the equivalent of 20kg of water in containers, plastic bottles, and buckets, wearing only flip flops to tread on the rugged ground.
"It is a difficult journey," the mother explained, "in my village, temperatures often reach over 40C, and it is very warm."
'My children are constantly sick'
But, as she told IBTimes UK, the difficulties do not stop there. In the dry season, the well dries up, and in the rainy season, the water gets dirty and access to the medical facility is almost impossible. Her children, including her sons, Yusapha, 5, and Ensa, 18, are constantly sick.
"Sometimes my children and I have diarrhoea. When we go to the hospital, which is very far away, they tell us it is because of the dirty water we drink."
When the well dries up, Siabatou says she and her daughters have to wait for it to recharge.
"We need to stop collecting water then, and wait for long time. Maybe if we start collecting, after filling just one bucket the well will dry up again. Sometimes we need to call the men to re-dig it, and that also takes time."
A hand-dug open well can take many weeks to dig, whereas a borehole can be drilled within 48 hours – depending on the depth.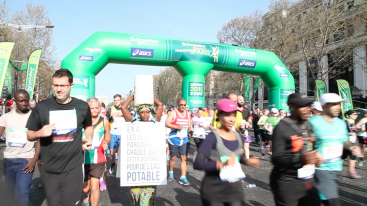 Women suffer miscarriages
Siabatou recalls how difficult the water collection journey was during her four pregnancies, speaking about instances where other women have suffered miscarriages because of the strain of carrying so much water.
The other challenge is that while babies are breastfed, women have a higher requirement for water during the lactation period.
"[Women] have to drink far more water to feed the babies, and often they will supplement their breast milk with water from the well. We are not advised to do so by the doctors because babies have zero immunity to water contamination, but that is the only option we have. We have no choice," Siabatou said.
In her village, many infants under the age of 6-months are becoming "very sick and unfortunately, even dying" because they are given contaminated water.
Siabatou, the Marathon Walker
While she did not walk the whole 42km "because it was too long and the container on my head was too heavy", Siabatou, says she is proud to have accomplished the walk, carrying a placard that read: "In Africa, women walk this distance every day to collect water. Help us shorten the distance".
"I expect this will enable people to donate so we can have clean water in African villages. I don't want my children and their children to be collecting water from the well when they are my age," said Siabatou, who has now been nicknamed the "Marathon Walker".