Islamist gunman Amedy Coulibaly was randomly stopped by police only a few days before going on a shooting rampage that left five people dead in Paris, it has been revealed.
Coulibaly was pulled over by motorcycle policemen as he was driving in northern Paris on 30 December, according to the investigative weekly newspaper Le Canard Enchaîné.
A week later he murdered a policewoman and four Jewish shoppers in the French capital before he was shot dead by security forces at the end of a tense standoff in a Kosher supermarket.
His partner and alleged accomplice Hayat Boumedienne was in the passenger seat of the Seat Ibiza he was driving, when police stopped the vehicle in rue Simon-Bolivar, in the northern XIX arrondissement.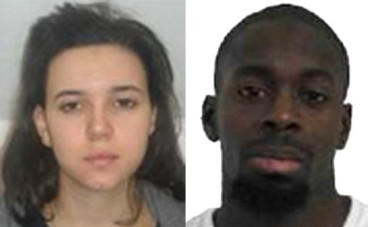 The officers asked the 32-year-old for his documents and a database check revealed he was on a terror watchlist.
Police guidelines in that case require gathering as much information as possible from the individual, who was considered as "dangerous and linked to Islamist movements".
In 2013, Coulibaly was sentenced to jail for his alleged role in the botched attempt to free from prison Smain Ait Ali Belkacem, a jihadi serving a life sentence for a 1995 metro station bombing in Paris.
The policemen informed anti-terror authorities but received no further instruction and let the couple go, Le Canard Enchaine said, quoting the officers' report.
A few days later, Coulibaly and Boumedienne travelled to Madrid, where they spent three days together.
The woman then flew to Istanbul before crossing into Syria. Coulibaly returned to Paris instead to carry out the shootings.
After the attacks, authorities found he kept an arsenal of weapons at his Gentilly flat including guns, knives and dynamite.
Boumedienne is currently sought by French police on suspicion of helping her partner to plan the attacks.
Meanwhile, Paris Prosecutor Francois Molins said four men also suspected of providing logistical support to Coulibaly have been handed preliminary charges. The four were remanded into custody until a further investigation.