The main application to trademark the Je suis Charlie slogan has been withdrawn after a backlash against the move on social media.
Belgian businessman Yanick Uytterhaegen applied for the trademark for commercial goods but has since withdrawn his application from the Benelux Trademarks Office.
The registration, which would apply across Belgium, Luxembourg and the Netherlands, covered everything from hair lotions to clothing and footwear. Uytterhaegen could not be reached for comment on the withdrawal.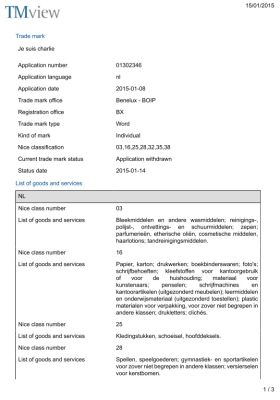 One social media user claimed the move was "utterly tasteless", while another person accused those of trying to trademark the slogan of "money grabbing".
Chris McLeod, director of trademarks at Squire Patton Boggs, told IBTimes UK even Charlie Hebdo would struggle to trademark Je suis Charlie.
"No one can really say that 'I own it'. If it was filed in the name of the magazine, then you might be able to say 'oh, yeah – you're known as Charlie Hebdo'," he explained.
"But I think it's probably one of those things that's already so far out there in the public domain that anyone, even the magazine, would struggle to get something registered."
The Je suis Charlie (I am Charlie) slogan was created by Joachim Roncin after the attack on the weekly French satirical magazine by al-Qaeda terrorists.
Roncin, who lives near Charlie Hebdo's offices in Paris, made the graphic and coined the hashtag to show solidarity with the journalists murdered during the assault.
The French office for intellectual property revealed more than 100 attempts have been made to get a trademark on the phrase.
In December, a US woman attempted to trademark the "I can't breathe" slogan.
The motto was created after Eric Garner died in July after being placed in an illegal chokehold by a police officer in Staten Island, New York.
Garner's last words were "I can't breathe", a message US woman Catherine Crump wanted to trademark for commercial use on hoodies and T-shirts.