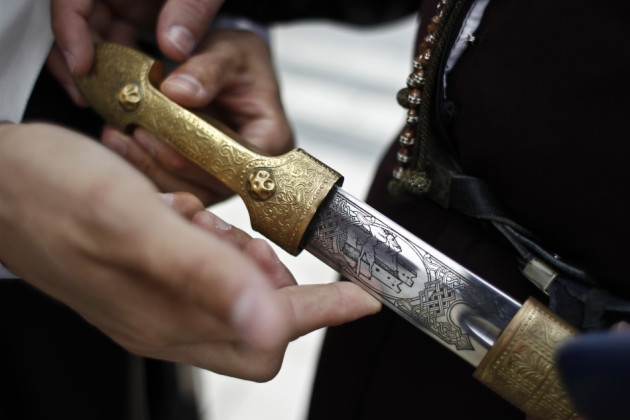 A criminal gang allegedly chopped off an eight-year-old girl's right arm with a sword in Patna, the capital city of Bihar state in India, on Thursday.
The horrific incident took place as soon as the girl, Uzma Ara, and her family got down from a train at Patna railway station.
According to Ara's father Ainul Ansari, the family had gone to Patna to retrieve Ara's four-year-old brother, who was allegedly kidnapped from their home town in Darbhanga district. He believes the girl's arm has been severed by the same gang, which kidnapped her brother.
Ansari says the girl was attacked by the gang because she was the main witness to the alleged kidnapping of his son Julfikar.
"As we left the Rajendranagar railway station on Thursday night, my daughter got left behind by a few metres. Suddenly, two men attacked her and chopped off her right arm with a bhujali (sword)," Ansari told Hindustan Times.
A Mail Online report suggests Ara is admitted in a government hospital in Patna and is in a severe condition.
Ansari has identified the attackers as Bobby Khan and Bashir Khan and further claimed that the gang followed them from their hometown to Patna.
According to Ansari, when he approached the police to file a complaint, they refused to investigate the case and instead maintained that the girl had fallen off to the railway tracks and the doctors treating the girl had to severe her arm off.
However, dismissing the police reports, the girl's mother met Bihar chief minister Nitish Kumar asking for justice. Following the meeting, a probe by the Criminal Investigation Department (CID) has been ordered.
"Besides the allegation that the victim's right arm was chopped off with a sharp-edged weapon soon after she alighted from a train at the Rajendra Nagar station late Thursday night, the CID would also go in the kidnapping of her brother Zulfikar Alam, 4, in May, allegedly by Bobby Khan and his men, in which the victim was a witness", CID Director General A.K. Upadhyay told reporters.
Ansari says that the gang had abducted his son and attacked his daughter over a "land dispute."