Director Peter Berg reunites with Mark Wahlberg for their third non-fiction film Patriots Day, a cinematic re-telling of the 2013 Boston Marathon bombing and the police investigation which ensued. Focusing more on humanity and the city's reaction to the terror attack rather than the tragic events themselves, the drama thriller boasts a star-studded cast with JK Simmons, John Goodman, Michelle Monaghan and Kevin Bacon all in supporting roles.

Our verdict
Berg is no stranger to depicting real-life events on the big screen, having previously directed Wahlberg in acclaimed dramas Lone Survivor and Deepwater Horizon. With Patriots Day, he takes on yet another harrowing story; the Boston Marathon bombing. Having taken place only four years ago though, he's tasked with presenting this one a little more lightly-handed than he's used to.
That's not to say he doesn't take some structural risks along the way... When events such as 9/11 or the Boston Marathon bombing happen, people often admit during hushed conversations afterwards that the scariest thing about them is our inability to predict them. Berg daringly flips this fear on his head here, taking his time getting to the incident and deliberately instilling a sense of dread within his audience, who know all too well what's about to occur to the characters on screen.
For the most part, we follow Tommy Saunders (Wahlberg), a Boston police sergeant charged with monitoring the finish line at the Boston Marathon, much to his irritation. There's surely more juicy law enforcement work he could be doing, right? And Saunders has no qualms in voicing his reluctance to his superior, police commissioner Ed Davis (Goodman), either. Not that it makes any difference, he's got to do it to make up for a previous rule-breaking apparently.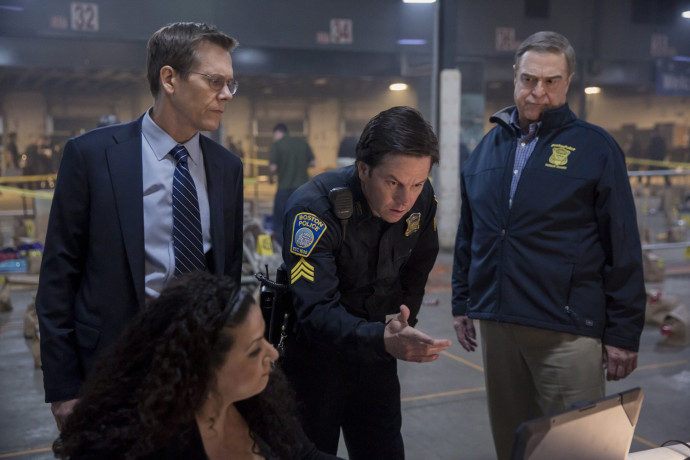 The morning of the 15th of April, as Saunders makes jokey small-talk with (or more accurately, at) his wife Carol and dons his uniform for the day, several other characters and the steady buzz surrounding the race is established. The tension soon rises as Berg introduces radicalised Chechen brothers Dzhokhar (Alex Wolff) and Tamerlan Tsarnaev (Themo Melikidze) who, while everyone else is tying their running shoes or finding the best spot in the crowd, are gearing up to detonate two explosive devices.
As soon as the bombs go off, the movie shifts gear, forcing us to witness the aftermath of the blasts. Only three people lost their lives in the Boston bombings but many lost limbs and this isn't just hinted at here as Berg lingers on disembodied feet, bloody wounds and the body of a child which was ordered to be left in place for the sake of the investigation. It's truly chilling, but Berg doesn't linger on the violence for long, it's not why we're here.
Along with FBI Special Agent Richard DesLauriers (Kevin Bacon) and his team, the Boston police department quickly strive to identify the bombers – utilising Saunders' local knowledge to pace out CCTV footage and identify the perpetrators. Those aware of the real-life story will know what follows the moment they learn their names; a point-blank murder, a carjacking-turned-kidnap, a residential shoot-out and finally, a frantic manhunt. But it's arguably much much more effective if you aren't.
Wahlberg carries the narrative, with Saunders [somewhat ridiculously] popping up exactly where he needs to be in every scene, well, often acting as the film's emotional centre, due to his no-nonsense attitude, street savvy and natural likeability. But it's evident this isn't a movie about one man's career achievements, nor one actor's performance, but rather an exploration of how well a city rallied together – government bodies, law enforcement officials and citizens alike – after such a tragic event.
It's a Boston Strong-themed love letter, so to speak, which prides itself on focusing much more on its American "heroes" than its "villains" (of which we see very little of). It's a bold story-telling move but with all that Patriots Day is trying to achieve, it just about makes sense.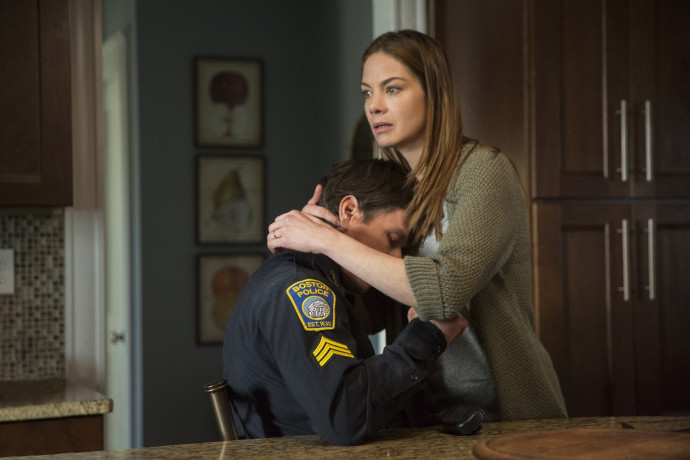 Berg and co-writers Matt Cook and Joshua Zetumer nail the balance between thrilling scenes like the Watertown shoot-out or the "boat capture" and the movie's most human moments; such as Saunders' tearful breakdown when recalling the blasts and the intimate exchanges between injured young couple, Patrick and Jessica (Christopher O'Shea and Rachel Brosnahan respectively) or a father-and-son duo.
It makes it so much more powerful too, that every character aside from Saunders, and subsequently Carol (Monaghan), were all real. It almost makes Patriots Day feel like a glossy documentary film, heightening an audience's connection to what really happened that fateful week.
There are flashes when Berg's desire to thrill takes over ever so slightly however. Replacing Boston-movie favourite phrase "c**ksuckers", the film boasts a barrage of "motherf****r"-based insults towards its terrorist characters instead, which frequently combined with the words "catch" and "find" comes off a little too action-movie cliché against the movie's more deferential sequences. Then again, it's clear Berg is going for realism here, and in the heat of certain moments, who's to say these characters wouldn't exhibit bursts of extreme, amped-up rage?
Throughout, Patriots Day does walk the line between moving historical account of a real-life tragedy and hokey soap opera. Fortunately, it manages to be much more of the former than the latter. There's no denying that this is a movie respectfully told from research thoroughly conducted; as much as a heart-felt homage to all those involved in the Boston Marathon bombing and the investigation that followed as it is a piece of cinematic entertainment.
It cements that notion by rounding off the film with interviews with several of the people portrayed in the film. As they recall their experiences and the range of emotions they went through on that fateful day, you realise why this movie was made in the first place.