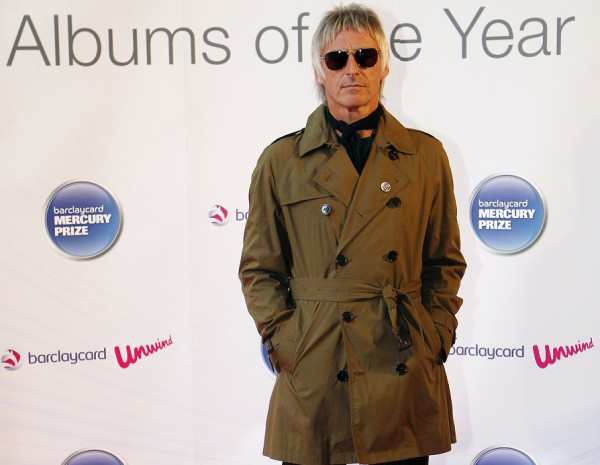 Paul Weller has launched a privacy battle against the publishers of the Mail Online after photos of his three children was published on the internet.
Weller is taking on Associated Newspapers in a rare privacy lawsuit, alleging images of his family on holiday in Los Angeles were 'voyeuristic', the High Court has heard.
The Modfather is demanding thousands in damages after seven photos of daughter Dylan, who was 16 when the pictures appeared and twin boys, John-Paul and Bowie, who were 10 months- old, were used in a story under the healdine 'A family day out'.
The court heard how the pictures were taken by photographer who had followed the Wellers through LA's streets to a cafe, sometimes using a long lens without their consent despite being asked to stop.
The judge was told that Hannah Weller, the mother of the twins, had not been in the public eye before her marriage to the rocker and had taken steps to prevent head-shots of her children appearing in the media.
But defending, Antony White QC, said the photos did not depict anything private or fall within the scope of Article 8 of the European Convention on Human Rights, which respects private and family life.
He said: "They are entirely innocuous and inoffensive images taken in public places in Los Angeles and contain no private information or details that might embarrass the claimants or intrude upon their private lives."
Privacy cases

Rio Ferdinand took legal action against Mirror Group Newspapers in 2011

Privacy trials have been rare in the English Courts ever since misuse of private information was first recognised in Campbell v Mirror Group Newspapers in 2004.

In that case, which centred on photos of supermodel Naomi Campbell leaving a rehabilitation clinic after denying she was a recovering drug addict, the House of Lords ruled Campbell's right to privacy outweighed The Mirror's freedom of expression.

Only six contested privacy lawsuits are thought to have taken place since, including Max Mosley's case against News Group Newspapers Ltd in 2008 after photos were published of him engaging in a sex session, and Rio Ferdinand against Mirror Group Newspapers in 2011 alleging the footballer had had an affair.
Associated Newspaper claimed the Wellers had chosen to open up their private family life to public gaze and pointed out how daughter Dylan Weller was registered with an LA modelling agency since her early teens and appeared in Teen Vogue.
White said the children have been exposed to deliberate publicity, "in marked contrast" to the likes of JK Rowling.
The trial is listed for four days with Weller expected to give evidence in support of his children's claims.