Pence tries to defend Trump's claim that there were millions of 'illegal' votes
There is no evidence of millions of cases of voter fraud during the presidential election.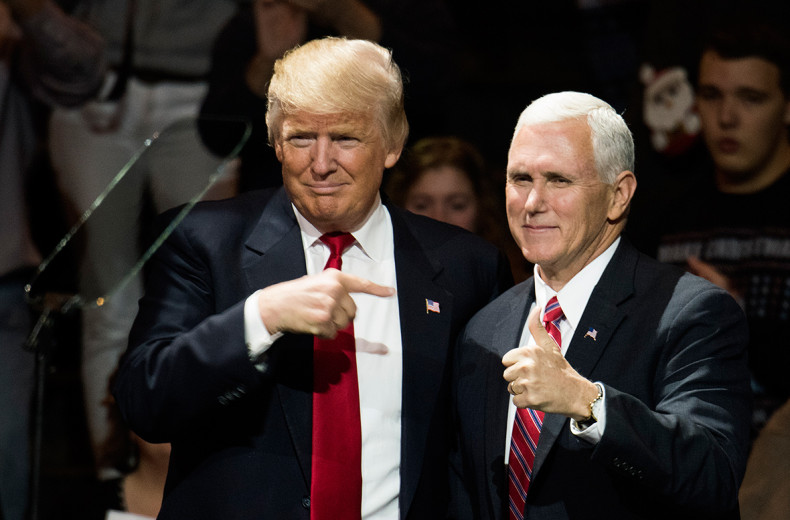 Vice President-elect Mike Pence attempted on Sunday (4 December) to defend President-elect Donald Trump's claim that "millions" voted illegally in the presidential election. Trump tweeted on 27 November that he would have won the popular vote "if you deduct the millions of people who voted illegally". However, he has produced no proof to support this claim.
"It's his right to express his opinion as President-elect of the United States," Pence responded during ABC News' This Week when asked if it was Trump's "right" to peddle misleading claims. "He's going to say what he believes to be true, and I know he is always going to speak in that way as president."
This Week host George Stephanopoulos then questioned Pence about whether he believed Trump's claim to be true. "I think one of the things that's refreshing about our president-elect and one of the reasons why I think he had an incredible connection with people all across this country is because he tells you what's on his mind," Pence responded.
"But why is it refreshing to make false statements?" Stephanopoulos asked. Pence replied: "Look, I don't know that that is a false statement."
According to ABC News, the Indiana governor repeatedly cited a 2012 Pew Charitable Trusts report on voter registration records to back up Trump's inaccurate claim. "I think the president-elect wants to call to attention to the fact there has been evidence over many years," he said.
When pressed on whether he could provide evidence of voter fraud, Pence diverted to Trump's "connection" to the people. "Well, look, I think he's expressed his opinion on that. And he's entitled to express his opinion on that," Pence said, according to The Washington Post. "And I think the American people — I think the American people find it very refreshing that they have a president who will tell them what's on his mind."
The 2012 study reviewed the need to update voter registration records. However, the study's primary author, David Becker, has noted that the report found no evidence of voter fraud. Following Trump's tweet in November, Becker tweeted a response to the president-elect clarifying what his study actually found.
"As primary author of the report the Trump camp cited today, I can confirm the report made no findings re: voter fraud," Becker tweeted. "We found millions of out-of-date registration records due to people moving or dying, but found no evidence that voter fraud resulted. Voter lists are much more accurate now than when we issued that study in 2012, thanks to the 20 states sharing data through @ericstates_info."
Trump's Democratic rival, Hillary Clinton, leads in the national popular vote by about 2.5 million votes, according to the latest numbers from the Associated Press.