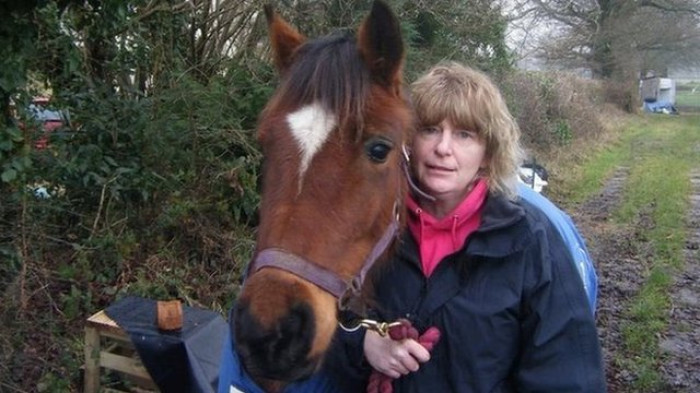 A 36-year-old Southampton man has been arrested on suspicion of murdering mum-of-five Penelope Davis, who was stabbed to death as she tended her horses in the New Forest.
A 22-year-old man, arrested on the same charge, and a 37-year-old man arrested on suspicion of assisting an offender, have both been released on bail pending further enquiries.
Ms Davis, 47, was attacked on broad daylight on 2 September in a field in Leygreen Farm, Beaulieu. She suffered multiple stab wounds. Her body was found by husband Pete, who she had married just four months earlier - she is also known by her maiden name, Lambert.
Hampshire Police are believed to be working on the theory that Ms Davis's dark green Toyota Land Cruiser might have been followed from the Blackfield branch of Sainsbury's where she worked. 70 officers are working on the murder case.
In a statement Ms Davis's husband and children Sophie (20), Alex (19), Georgia (18), Daniel (14) and Josef (13) said: "It has been a long, agonising week since our precious mum and wife was selfishly taken from us. We had no idea how many lives she had touched, as we have been overwhelmed by love and support. Despite this, the void in our hearts only continues to grow."
Hampshire Police have also appealed for anyone with information to come forward, but asked for people to refrain from using social media to speculate about the case.
In a statement on the Hampshire Police website Detective Superintendent Paul Barton said: As part of our enquiries, we are talking to people in the area to find out more about Pennie and the circumstances leading to her death.... I would ask you to contact us with any information and please be aware that speculation, particularly on social media, is not always helpful."
Anyone with information should contact:
Hampshire Constabulary Operation Biscotti investigation team (101)
Crimestoppers (on either 0800 555111 or through its anonymous online form at www.crimestoppers-uk.org). Crimestoppers has offered a reward of £5,000 for information leading to the conviction of her killer.