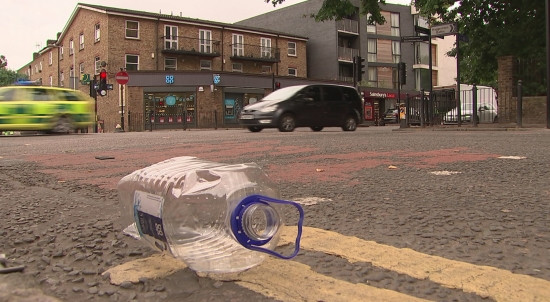 Courts in Wales are asking people to take sips off their bottles of water to prove they are not carrying acid.
In the wake of recent acid attacks, courts in Wales are being extremely vigilant and asking people that enter their premises to prove they are not carrying acid by drinking from their receptacles, reports Wales Online.
It is meant to prevent would-be attackers throwing acid at judges or other potential victims.
The "sip tests" extend to court staff, visitors, lawyers and journalists.
The Ministry of Justice issued the order and the "enhanced security measures" were first enforced in Cardiff Crown Court last week.
A security officer of the court said: "It would be very easy to conceal acid in a plastic bottle," which calls for extra vigilance.
In one instance, a family came to court with their child, who seemed to be three to four years old: "We had to ask the parents to take a sip of the drink to prove it wasn't acid, but it was the little boy who took the sip of the drink so we could allow them into the court."
One staff member recalls: "I was having my bag searched while going into court last week and the guard held out my water bottle and asked me to take a sip to prove it's not acid."
The man comes to court regularly for work and was in total disbelief: "I thought they were joking. I asked 'Are you serious? I've been coming here every day'. But they wouldn't let me carry on until I took a sip so I didn't have much choice."
A spokesman for HM Courts and Tribunals Service, which is part of the Ministry of Justice, said that these security guidelines will take effect in all of the United Kingdom's courts by the end of this week. "We take the safety and security of court users and staff extremely seriously, which is why we're bringing in enhanced safety measures across the court estate."
Acid attacks have plagued the UK since the start of the summer.
Several measures have been taken to prevent them, including police officers checking bottles of children's drinks that could be used to cause "maximum damage".
On July 13, teenagers carried a total of 5 attacks in the course of only 90 minutes, using mopeds. They inflicted life-changing injuries to at least one of the victims and wounded five more. The attackers were later arrested and questioned by the police.
On August 4, the Crown Prosecution Service (CPS) ruled that attackers would serve a life sentence in order to tackle the vicious trend, even if they don't hit their targeted victims.
According to the Met Police, the number of acid attacks in London has increased by 175% over the past two years, with 454 crimes involving ammonia or other noxious substances being recorded in 2016. By comparison, only 162 were carried in 2012.