Pep Guardiola faces a tough task choosing between Chelsea and Manchester City upon deciding his next managerial post, according to ex Barcelona and Blues defender Albert Ferrer.
Guardiola pledged to take a year out of the game at the end of last season following four years at Barcelona where he won three La Liga titles, two Copa del Reys, two European Cups and two World Club Cups.
The 41 year old has been linked with roles at Serie A side AC Milan and the Brazil National Team while rumours persist over potential moves to Premier League pair Chelsea or City.
Rafa Benitez is the newly appointed Chelsea interim manager until the end of the season, while Roberto Mancini won City's first league title for 44 years last term but has now failed to make progress from the group stage of the Champions League in successive years.
Ferrer, who spent much of his 15 year playing career at the Nou Camp and Stamford Bridge, says Guardiola faces a difficult decision upon choosing his next managerial challenge.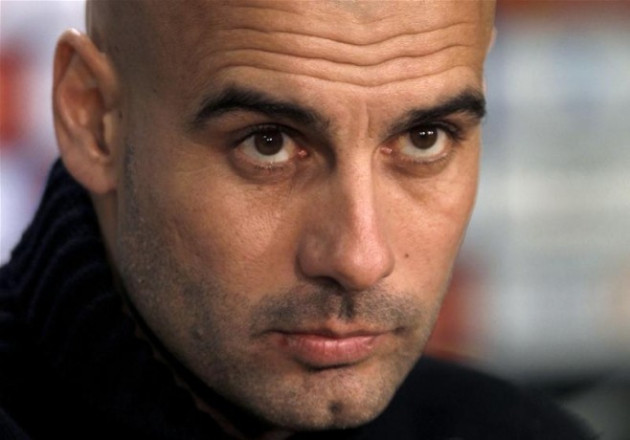 "I don't know what he's going to look for but I am sure he is going to put some conditions in there; he likes to work his way, he likes to be surrounded with his people, his team and his philosophy of football," Ferrer said.
"He will need a medium term project, not something that after two months and the results are not good someone starts questioning him. So he needs a good environment to work.
"I'm not saying Chelsea don't have it, if Chelsea want Guardiola they will have to do it. That's the only chance to take Guardiola if he wants to come and Rafa doesn't continue.
"At this moment it is true that at this moment he has some good friends at Manchester City, it seems a good project as well for him but still Mancini is there.
"So still one or two of these teams say they don't want to keep the manager he will start thinking. He is a very close friend of Txiki Begiristain and (Ferran) Soriano, they worked together at Barcelona and they have the same philosophy, the same thinking and that can help."
Despite moving to Chelsea on an interim basis with a view to becoming the club's permanent manager as a replacement for Roberto di Matteo, Benitez is not expected to be retained beyond the end of the current campaign.
The appointment of the ex-Liverpool and Inter Milan boss, who ended a two-year exile from management to move to west London, has been met with animosity by the Blues faithful following previous comments made about the club, his lethargic style of play and the manner of Di Matteo's sacking.
Goalless draws against City and Fulham have done nothing to improve the mood at Chelsea, but Ferrer says Benitez must stick to his principals if he is to earn the position full-time.
"It's a difficult time because Roberto Di Matteo is a very well loved person, he was an ex-player for Chelsea and he won the Champions League which makes it always difficult to get rid of him and people they are a bit upset but at the end of the day they should understand that this is not Rafa's fault," Ferrer added.
"In terms of Rafa what he has to do is to take the opportunity and training at Chelsea is an unbelievable opportunity even if it is for six months.
"This is a great moment for him; he is back on the market so if he does a good job he will be back there for a top teams so I think it is good for everybody.
"The only thing he has to do is to work so he cannot really be thinking about what has to do to turn people around. He really has to work he cannot get into more battles
"He has a lot to do with the team and he should be spending energy on that. He has to focus on what he has to do and if he can do a good job people at the end of the day will have to like him because he is working for Chelsea and he wants the best thing for Chelsea so he has to be 100% focused on the job."