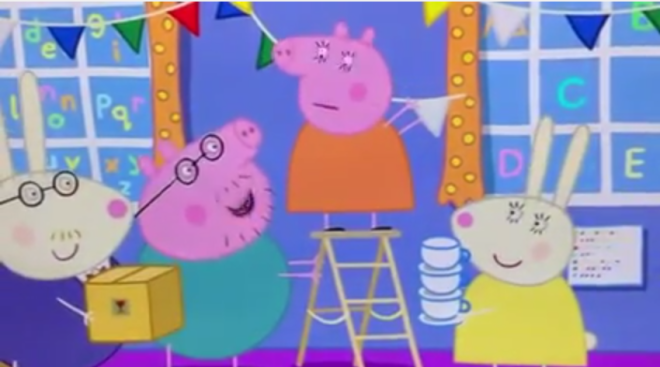 Beloved children's cartoon Peppa Pig became the unlikely focal point of a mother's outrage when one character appeared to swear.
The Sun reported that Cardiff mum Natalie Cox was shocked to hear the F-word uttered during the show as her daughter watched it on DVD. You can watch the scene in question below.
Warning: The following clip of Peppa Pig contains (alleged) strong language
In the episode, playgroup teacher Madame Gazelle is having a leaving party at which Mr Rabbit (the accused) says she used to be part of a band called the "Rocking Gazelles" - only when he says it, it sounds like "f**king gazelles".
Reportedly Cox's daughter was heard repeating the phrase.
"I couldn't believe my ears," she said. "She kept saying it over and over. I took the children out of the room and put on the DVD. One of the characters clearly says it. How on earth did it get past the editors?"
A spokesman for Peppa Pig said "any misunderstanding is unintentional".
Peppa Pig is a British animation created by Neville Astley and Mark Baker, and has been running on Channel 5 since 2004.