This 42,000-year-old woolly mammoth, nicknamed Lyuba, is so well preserved that there were traces of her mother's milk in her stomach and some eyelashes remain intact.
Lyuba was one month old when she died, and it's believed that she drowned in mud. She was found on the Yamal Peninsula, Russia, in 2007 on the banks of a frozen river.
Victoria Herridge, a paleobiologist specialising in elephants at the Natural History Museum in London, told the Sunday Times: "When they did the autopsy on her she is so complete that we could get a look at her insides and see her last meal.
"She had milk from suckling her mother and also remnants of faecal matter in her gut, which suggest she had been eating her mother's dung. This is something living elephants do as the dung provides the infants with microbes to help them ingest their food."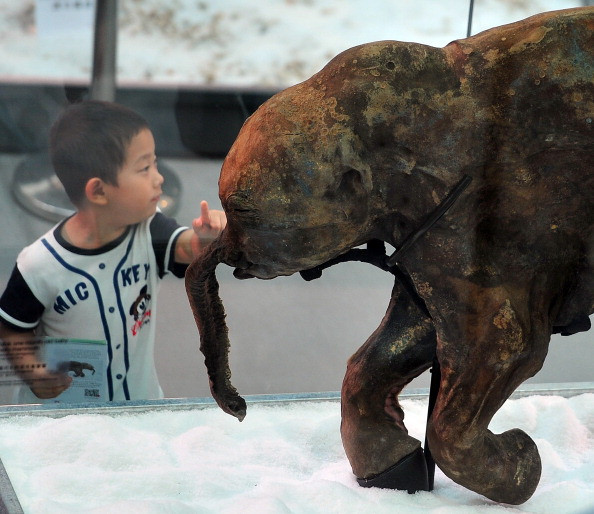 Scientists could also piece together the final moments of her life. "They found that her lungs had collapsed and her trunk was full of sediment. This points to the poor baby mammoth getting mired in this salty marshy bog and slowly drowning in the mud."
Recreating mammoths through cloning is a long-held scientists' dream and has been the subject of Hollywood films such as Jurassic Park. However, Herridge thinks in the case of Lyuba, it's highly unlikely.
"I'm sure people are trying but even though Lyuba has been preserved beautifully, her DNA will have deteriorated and there are still too many gaps," she said.
Lyube will go on display at London's Natural History Museum from 23 May until 7 September 2014, as part of an exhibition entitled Mammoths: Ice Age Giants. Other items on display include the spiral-tusked Columbian mammoth and their island-dwelling relative, the dwarf mammoth. There will also be other prehistoric giants such as the mastodon, the fearsome sabre-tooth cat and the giant short-faced bear.
The museum's mammoth expert, Professor Adrian Lister, said of Lyuba: "This exhibition is a once-in-a-lifetime opportunity to meet this amazing creature. She is hugely important for helping us to understand the lives of ice age animals."
Watch a video explaining more about woolly mammoths