Paul McCartney has written to the president of the Philippines asking him to release a lonely elephant being held captive at a zoo.
The rock star sent a letter to president Benigno Aquino III asking for Mali, a 39-year-old female elephant, to be transferred to a sanctuary in Thailand.
Mali has been held at the Manila Zoo on her own for over three decades and her veterinary care has been almost completely ignored for the last 36 years.
Studies show that keeping elephants on their own is extremely detrimental to their health and wellbeing, as in their natural habitats they spend their entire lives living in herds.
A statement from People for the Ethical Treatment of Animals (Peta) said: "In their natural habitats, female elephants spend their entire lives with their herds. Every daily activity - from foraging for food to playing and bathing in rivers - is carried out in the presence of their extended family group. Logistically, the zoo can never offer enough space for elephants."
Last year, Aquino ordered an evaluation of Mali and issued a directive saying she should be considered for transfer. However, nothing has come of this and Mali's health has gradually been deteriorating.
Writing to the Philippine president, McCartney said: "I respectfully urge you to use your good offices to expedite the transfer as, with every single day that she remains in the zoo, Mali suffers.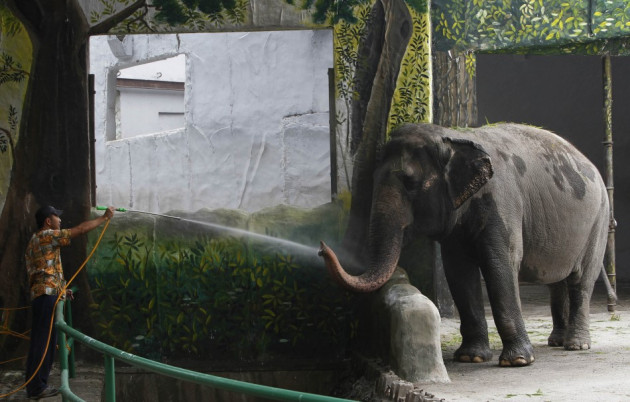 "It has been more than a year since that directive was issued, yet Mali seems no closer to enjoying her well-deserved retirement at an approved sanctuary.
"I have heard from my friends at Peta that various government authorities are continuing to deny that Mali's welfare should be within their jurisdiction and that the veterinarian who was brought in to perform a health assessment failed to address Mali's debilitating foot problems and the unimaginable loneliness of a herds animal kept alone."
McCartney said footage showing Mali at the zoo was "heartbreaking", saying it shows how she is in "constant pain". The former Beatles star added: "I was shocked to learn that Mali has never even received proper preventative foot care when foot and joint problems are the leading cause of death among captive elephants kept on hard surfaces.
"Everyone who cares for elephants is awaiting the day when Mali will leave the zoo ... With the stroke of a pen, you can bring an end to her suffering, and I urge you, with all my heart, to direct that Mali be given that joy now."
McCartney ends the letter with a quote from Mahatma Gandhi: "The greatness of a nation and its moral progress can be judged by the way its animals are treated".