Arsenal chairman Peter Hill-Wood says the club's board are unconcerned by the current trophy drought which has undermined Arsene Wenger's recent spell in charge.
The Gunners are without any silverware since victory in the FA Cup final in 2005 against Manchester United, while since a succession of big name departures including Patrick Vieira, Thierry Henry and Cesc Fabregas have followed.
An insistence on not investing heavily in the transfer market and instead breaking even financially has frustrated many fans inside the Emirates Stadium, with Wenger encountering resistance from sections of the support last year.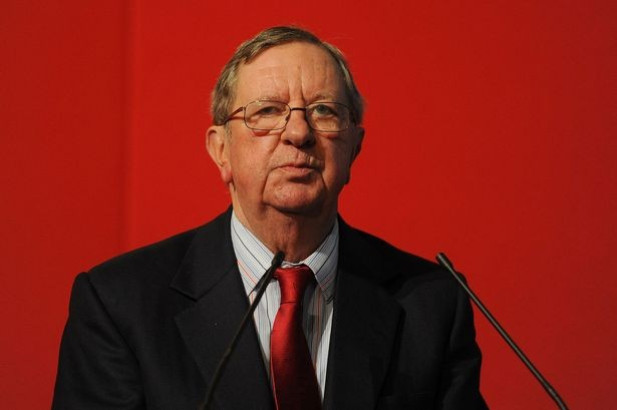 "It is not a worry to the board that we haven't won a trophy since 2005," the Arsenal chief said. "It would be lovely to win but it's not that easy. Liverpool haven't won the title for 20-odd years.
"We're very ambitious and want to win but, if you don't have billions of petro-dollars to throw around, you're going to have to do it some other way.
"That's what we're trying to do - with skilful selection of players. As for Walcott, he did not accept our offer so nothing is happening.
"At a certain level, we can't compete. I don't think Stan Kroenke [the American owner] is going to put the sort of dollars in that [Roman] Abramovich or Sheikh Mansour are putting into Chelsea or Manchester City. That's not the way he thinks clubs should be run.
"Luckily, Arsene understands that. He got an economics degree from Strasbourg University so he's certainly no fool. He knows how a club should be run. That annoys a lot of people but clubs have to be sustainable. We're not going to go bankrupt in the way one or two other well-known clubs have.
"The Glasgow Rangers example is something we've all got to guard against. They spent far more money than they could afford. We're ambitious enough but we're not going to end in the same plight as Rangers. That is a fact of life. So my advice is don't get miserable about it.
"What those fans shouted [at Wenger] did not influence me one little bit," he added. "I was disgusted to hear them because Arsene's been absolutely outstanding. He is still outstanding."
While player sales has assisted in stabilising Arsenal's balance sheet, the move to the Emirates Stadium has coincided with a sustained spell in the black, with the revenue gained from extortionate season tickets helping the club become financially stable.
North London neighbours Tottenham Hotspur are hoping to build a new stadium on the existing White Hart Lane site, but Hill-Wood doesn't expect a threat from Spurs in terms of their stadia nor from the team led by new manager Andre Villas-Boas.
"I was very nervous [about Arsenal's move to Emirates Stadium] and didn't see how the hell we could finance a new stadium," Hill-Wood added. "It's worked out very well.
"I do not see Spurs posing a problem for us this season," he said. "Their new manager [Andre Villas-Boas] may be a great success but they have to find a stadium. That's going to be very difficult. Finding a site and financing it is a major problem which we know all about."