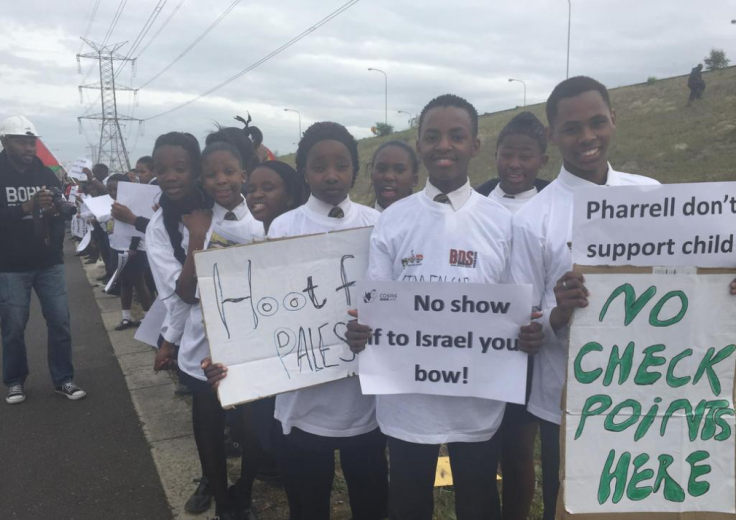 R&B superstar Pharrell Williams could face thousands of pro-Palestine protesters at a concert in Cape Town tonight (21 September). Boycotts, Divestment and Sanctions (BDS) South Africa – which campaigns against Israel's presence in Palestine – was given the go-ahead by Western Cape High Court for supporters to demonstrate against the singer's partnership with South African retailer Woolworths (no relation to the former British store of the same name), which it accuses of stocking agricultural produce from the disputed territories.
The court decision, which was handed down on 18 September, paves the way for 16,000 Palestine supporters to protest until 4pm local time outside the Grand West Casino. The ruling reversed efforts deemed as unconstitutional by Cape Town authorities to limit the number of demonstrators to just 150.
Earlier this year, the Happy singer was appointed style director for the retailer, who says that less than 0.1% of its food products are sourced from Israel. BDS South Africa is expecting the gathering to be "the biggest protest against an international artist in the country since apartheid".
A statement released by BDS South Africa read: "Pharrell Williams has been targeted because of his deliberate and informed decision to collaborate with Woolworths.
"Woolworths is a company that maintains unjustifiable trade relations with Apartheid Israel and is the current target of the biggest consumer boycott campaign seen in South Africa since democracy.
"Pharrell goes as far as describing Woolworths as a company that cares about where their products come from – while Palestinian life and land is usurped each time Woolworths unethically buys Israeli products stolen from Palestinians. Pharrell has also broken the cultural boycott of Israel by scheduling a performance in Israel in order, according to Israeli media, to 'make Israelis happy'. And what of the happiness of Palestinians (and progressive peace-loving Israelis) who have called for a boycott of Israel, we ask Mr Williams?"
The Palestinian/Israeli struggle has long been recognised by South Africa's ruling ANC party. Speaking on 15 September, President Jacob Zuma said: "There can be no lasting peace in the Middle East for as long as Palestinians are denied their inalienable right to a land of their own." He also called on Israel to put an end to the "unacceptable blockade of Gaza" as well as its settlement programme.