Philadelphia child gang assaults mentally disabled man in disgraceful viral video
Police say the Germantown incident is connected to another, where a school principal was hit with a brick.
Philadelphia Police have apprehended four boys, aged 12 to 15, who apparently feature in a video of an assault on a mentally disabled man is assaulted in Germantown.
The teens were identified and taken into custody on Tuesday (6 June) – the day after the footage surfaced on Facebook. Police believe the attack took place on Memorial Day (29 May).
The boys have now been returned to the custody of their parents but could face charges including aggravated assault, according to Action News.
The slow-motion video opens with one of the boys delivering a fierce punch to the man's face as the other juveniles laugh.
The victim is nearly floored by the attack but manages to keep his feet on the ground and attempts to run away.
He is then hounded down by another youth and punched again.
"Obviously, the video is very disturbing. It appears this male, who is 38 years old, was targeted because he is mentally challenged. It's a senseless act of violence," Philadelphia Police Captain Malachi Jones said.
"To them, they might have thought this was clever, but my message to them and kids in general is to do more constructive things with your time. Because you shouldn't be out there messing with people," Jones added.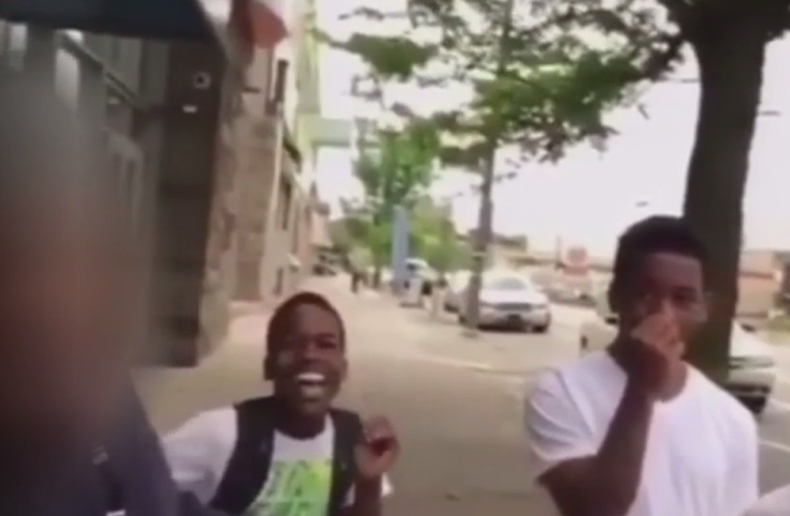 Police are now working to connect the assault to an attack on a Germantown principal, Dr. Robin Cooper, who was hit with a brick when he tried to break up a fight at Edwin Fitler Elementary School.
Cooper was left needing six stitches after the incident, which was also filmed and uploaded to social media.
Commenting on his decision to put himself in harm's way, Cooper said: "They kept coming up towards him. I mean what was he supposed to do? Leave his children? No principal is going to leave his children in harms way. You go down with your ship,"