Jose Enrique has backed Philippe Coutinho to maintain his impressive form during his debut season in the Premier League after an impressive start to life in English football since his January transfer window move from Inter Milan.
Coutinho moved to Merseyside in the closing days of the winter transfer window and has since proved to be a significant addition to The Reds attack, with two goals and three assists helping the club maintain an interest in qualifying for the Champions League.
The 20 year old's contribution has already seen him compared to Ronaldinho and Lionel Messi, while manager Brendan Rodgers has heeded patience with the midfielder.
But Enrique believes that Coutinho can prove as influential for Liverpool as Luis Suarez has been, with the playmaker expected to improve as his adaptation to the Premier League continues.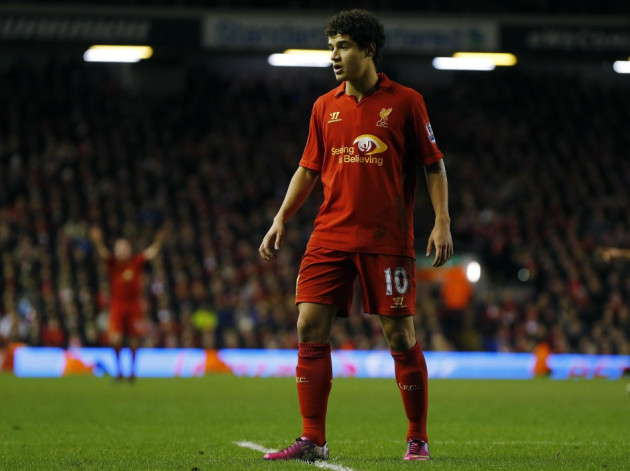 "It's easy to play with good players," Enrique said, according to the Liverpool Echo.
"Everyone says sometimes me and Luis link well. I think Luis is a top player, it's easy to link well with him. With Coutinho, it's the same thing.
"He's a very good player, you can see his amazing talent and he's still really young.
"Luis had a really good year after just six months here before. Now you can see the real Luis, with how many goals he scores.
"With Coutinho, it's going to happen the same I think. You can see how well he is doing but I think he's going to improve a lot more.
"If he improves after what he has been doing already he is going to be a top player for us. He's a really calm player; he doesn't talk much but he's always joking."
Coutinho is among a series of positive signings made by Rodgers since his appointment last summer, with Joe Allen and Daniel Sturridge also making an impression.
Liverpool continue to harbour hopes of finishing in the top six this season, and Coutinho will be assisting in their attempts to breach the gap to local rivals Everton in the Merseyside derby next month.