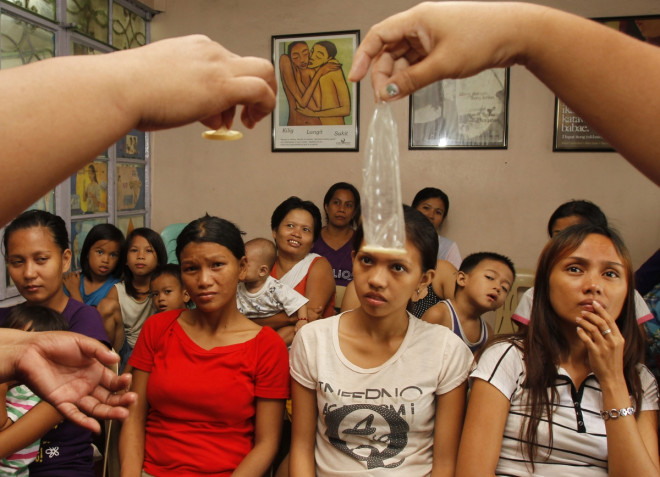 The Philippines' supreme court has approved a birth control law that will change the lives of millions of poor Filipinos sending a powerful message to the Catholic Church and marking the end of a 15-year struggle for campaigners.
The law requires government health centres to give free condoms and birth control pills and instructs that sex education must be taught in schools. It also requires public health workers receive family planning training. There will also now be medical care available for women who have resorted to illegal abortions.
The Catholic Church had campaigned for more than a decade against any form of family planning laws in the Philippines, with street protests stigmatising the law as "evil" and even threatening president Benigno Aquino, a strong supporter of the law, with excommunication.
Catholics count for more than 80% of the country's 100 million population. The Philippines has one of the highest birth rate in Asia.
Aquino had approved the law in December 2012 arguing that it will help the poor - who often cannot afford birth control - and combat the country's high rates of maternal mortality. However, the supreme court suspended it after church groups filed more than a dozen petitions arguing it was unconstitutional.
After Tuesday's final ruling, supreme court spokesman Theodore Te told reporters that the law was not breaching the constitution.
"This monumental decision upholds the separation of church and state and affirms the supremacy of government in secular concerns like health and socio-economic development," legislator Edcel Lagman, the principal author of the law, said immediately after the verdict.
"A grateful nation salutes the majority of justices for their favourable ruling promoting reproductive health and giving impetus to sustainable human development."
The main opposer to the law, former senator Francisco Tatad, said civil disobedience if not open revolt will follow the law's approval.
Church leaders are still very influential in a country where divorce remains illegal. But many people have opened up to a less conservative approach to religion in recent decades. A recent poll carried out by the Social Weather Stations polling group stated that 84% of Filipinos were in favour of the government's initiative to provide free family planning options.