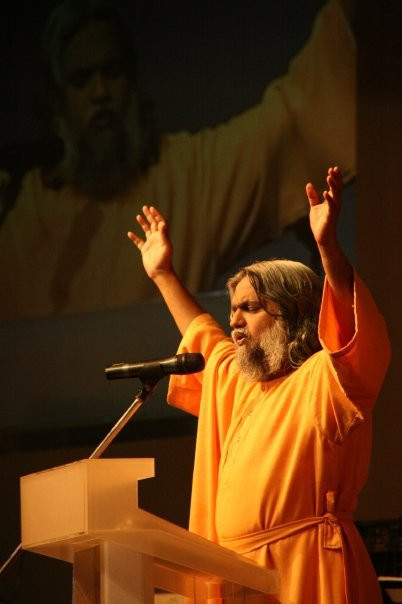 There has been an outbreak of panic on the social media in the Philippines after local news reports linked a "flesh-eating skin disease" to a prophecy made by Indian seer Sadhu Sundar Selvaraj.
Even after The Philippines Department of Health told BBC that there is no "flesh-eating" bacteria epidemic in Pangasinan province and claims to the contrary are a "hoax", scare about the plague is spreading through the social media, using the Twitter hashtag #PrayForPangasinan.
Revelation from #theLORD is FLAWLESS. The #Bible itself is INERRANT in the autograph. | #PrayforPangasinan http://t.co/uge7PIYqh2

— Jashaél (@OfficialJashael) March 1, 2014
"@QueenAshi: May God forgive our sins and heal our broken land. #PrayForPangasinan" — Ayaa▲▲ (@IyaaaNicole) February 28, 2014
God says, "Because they love me I will rescue them. I will protect them because they know my name" - Psalm 91:14 #PrayForPangasinan

— Queen Bee (@JasminArejola) February 27, 2014
In a statement, Secretary Enrique Ona said there is no truth in reports regarding this "highly contagious" and deadly disease, reports Gulf News.
"There is no reported case of a 'flesh-eating' skin disease in the country yet. Absolutely no reason for the public to panic," Ona said.
Ona, however, confirmed that there were two cases of serious skin disease in the province.
"Health officials reported that Case 1 was of a female, 21 years old, from Santa Barbara, Pangasinan who is on multi-drug therapy for leprosy at a rural health unit. Dr. Myrna Cabotaje, Regional 1 Director, added that the said patient, who was initially-treated in another private health facility, has now completed the treatment but may still need debridement [removal of dead tissue] for her skin lesions," he said.
During one of his talks, Selvaraj had predicted a "deadly disease that would spread across the world, consume human flesh and would pierce through the bones".
Archbishop Socrates Villegas of Lingayen-Dagupan said the prediction was causing "unnecessary panic" among the people of Pangasinan.
"I think we should not give it too much attention. I think it is causing unnecessary panic to the people and it is not what we need at this time," Villegas was quoted as saying by a state-run news agency.