At least 10 soldiers have lost their lives in friendly fire air strike in the tormented city of Marawi, on Mindanao Island, in the Philippines.
The fire has also injured eight others, Defence Secretary Delfin Lorenzana said, while expressing sorrow. "A group of our military army men were hit by our own air strikes. It's sad, but sometimes that happens.
"Sometimes in the fog of war, maybe the coordination was not properly done, so we hit our own people," Lorenzana added on Thursday, 1 June.
The incident came a week after the Philippines President Rodrigo Duterte imposed martial law in the Mindanao island to fight Maute group militants that have links with the Islamic State. The militants have occupied parts of the Marawi City for eight days.
The Philippine armed forces have been using a combination of ground operations by soldiers and helicopters air raids to flush out the rebels associated with the Isis group from the city.
Marawi, a Muslim-majority city of about 200,000 people, lies about 800km south of the capital, Manila.
The city has been facing the crisis since last week after militants went on a deadly riot following an unsuccessful military raid to arrest Isnilon Hapilon – a Filipino militant on the US's list of most-wanted terror suspects with a US$5m (£3m) bounty on his head.
Since then, the Isis fighters have captured the city and held the citizens hostage. Most of the civilians have left Marawi; while over 2,000 people are still trapped, fearing for their lives amid violence by fighters and military raids.
The International Committee of the Red Cross (ICRC) has expressed concern for those who remained trapped in the region and also called for a humanitarian ceasefire.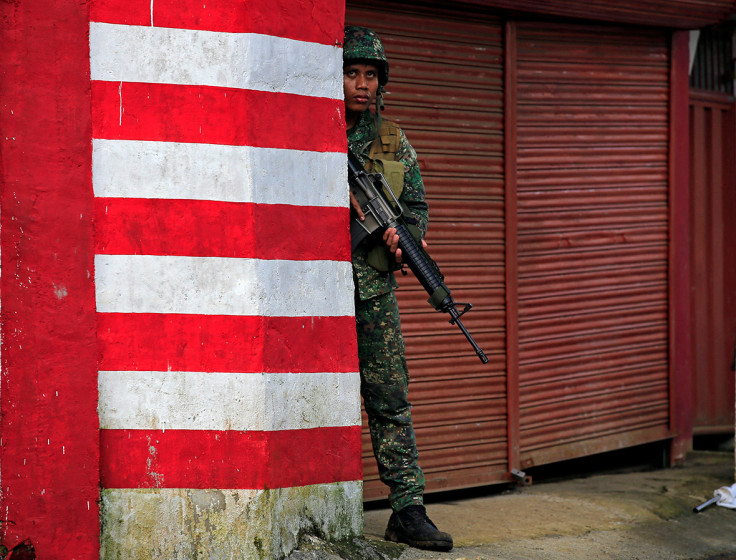 "I think it's horrific for the civilian people who are in there and we really hope that both sides can agree that the civilians should be given the opportunity to come out," the deputy head of the ICRC's Philippine delegation, Martin Thalmann, told AFP in Marawi on Wednesday.